We've all been there. That horrible feeling when we're not seeing any improvements or not meeting any of our health goals. We start to think about how and where we need to improve. We all have apps on our smartphones that help us in our everyday lives. With that, the YAZIO app can help you in your health goals.
Through the YAZIO App, everyone can track their nutritional input easily. You can find virtually everything about your physical health within the YAZIO app. The app is a calorie counter which takes just a few minutes every day and watches what you eat.
It also allows you to build a personal plan for losing, gaining, or maintaining weight in order to achieve your personal goals. Your app will also measure your dietary progress by showing your daily diet map and summary. The scanner for barcodes is also a valuable tool as it can easily look up thousands of products.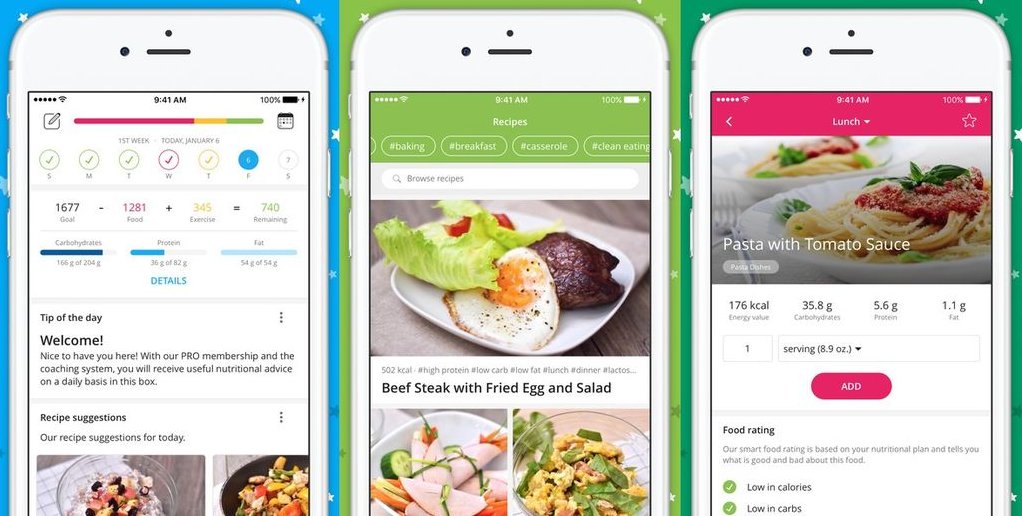 Calorie Counter
Once your calorie requirements have been determined, you can begin! It is very quick and easy to insert food. Just scan the bar code, and YAZIO can give several choices (if the product is equipped). When you find the one that suits your intake of calories, you can add it to your meal.
Make Recipes
A wide selection of already incorporated and delicious recipes are included in the app. There is a short introduction to each recipe that gives you a general idea about certain parameters (time, parts, number of ingredients, amount of difficulties).
You can also add food that is not included in the database (it is automatically included as an item in your food list) in a couple of seconds. You can also produce food if you eat several times the same items, as well as recipes, to be made public or not so that you can quickly add dishes without having to input each ingredient individually.
Water Intake
The calorie counter software also allows the amount of water consumed to be tracked. By default, the insertion number is set to 250ml, but it can be adjusted as you wish, along with the regular water objective.
Tap the icon shown each time you drink a bottle, which is filled with a lovely animation during the day by updating your counter.
The software synchronizes your vital information to Apple Health and Google Fit. It shows you how long it takes to achieve the results you want. There is also a recommended number of calories, carbohydrates, protein, and fat for each meal. There are all clearly shown on the home screen.
If you're not convinced enough, here are some other reasons that the YAZIO app can be your next best friend!
The friendly style is easy to navigate with an attractive photograph of food. Every consumer is able to set an objective to reduce weight, build muscle, gain weight healthily, or to retain their weight.
Conclusion
You can also monitor the intake of food and see daily calories and macronutrients! Also, you can test macronutrient ratios at the end of the day to see how close you are to your target. Check out the YAZIO app today to stay healthy!