An embassy is a diplomatic mission in another country that offers a full variety of facilities, including consular services. A diplomatic mission is a group of individuals from one state or organization present in another country to officially represent the sending state/organization in the receiving state.
These missions include the embassy, which is the principal office of the diplomatic representatives of one country to another country. Further, they are generally, but not always, in the capital city of the receiving state. On the other hand, the consulates are smaller diplomatic missions, which are usually located in the receiving state's major cities.
If you want to work at the US embassy in the Philippines, you have come to the right place. In this article, we will tell you all about getting a job at the embassy.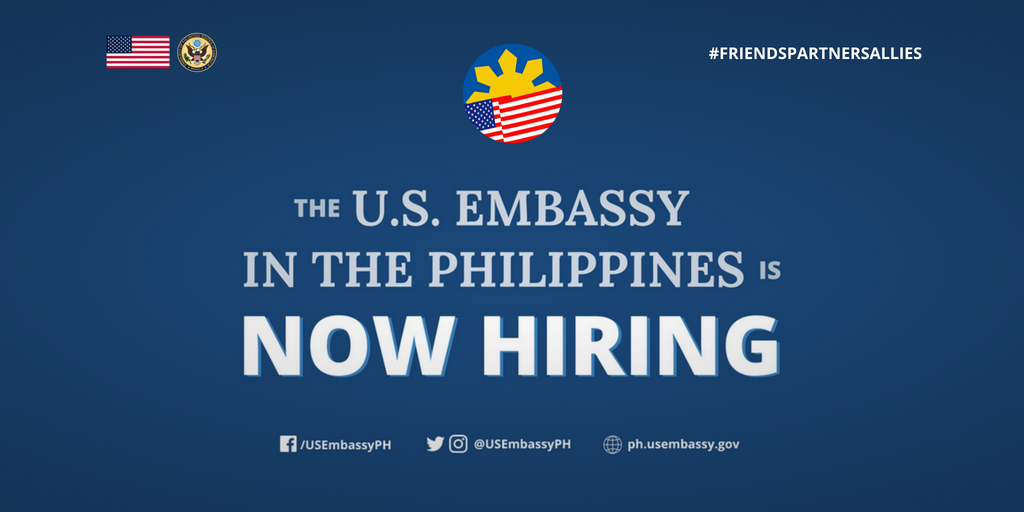 US Embassy Jobs In The Philippines
The US Embassy no longer accepts emailed, faxed, or paper applications. Further, a DS-174 Application Form is no longer required. All applications for vacancies at the U.S. Department of State have to be submitted through ERA. Further, to check current job vacancies, visit this page.
Essential Tips You Need To Know
All applicants must submit their application on ERA in English.
They do not accept applications for possible future vacancies. On the ERA Job Seeker site, you can only apply for all currently available and active vacancies.
You need to apply to each of the active vacancies you are interested in and qualified for.
Follow the provided instructions on how to apply. Fill out all of the information honestly and completely.
Clearly state your educational background and provide the specific university certification you have.
Naturalized citizens of a country are eligible to work in their country. If you have foreign citizenship, you must submit one of the following documents with your application to be eligible.

 Dual Citizenship Certificate, Alien Certificate of Registration card, or Immigrant Certificate of Residence.
Careers In The US Embassy
Foreign Service Officer
Officers of the Foreign Service are diplomats who work in five specialties: finance, consular, management, political, and public diplomacy. Your role as a Foreign Service Officer is to serve the U.S., foster communication, and advance U.S. interests in your expertise. However, pick carefully, because you can not turn to another career path easily. The State Department does not require any particular level of education for any of the career paths.
Foreign Service Specialist
Foreign Service Specialists run embassies' and consulates' daily operations. The main categories you can work in are administration, building engineering, facilities management, information technology, medical and health, office management, security, and international information, and English Language programs. So, you have a wide range of options if you wish to work as a Foreign Service Specialist. The necessary qualifications depend on the field in which you want to work.
Civil Service
Civil service also has a wide range of job opportunities, including historians, policy analysts, public affairs experts, and IT professionals, to name a few. The skill you wish to work in will decide what you need to learn. For starters, if you want to work as a historian, you'll need at least a history bachelor's degree, and a graduate degree will give you the upper hand.
Opportunities For Students
The U.S. Embassy also provides several internships and fellowship programs to students from the high school level through the graduate level. The key is to find the course for which you are most eligible. The website of the State Department contains a questionnaire, which you must complete if you are interested. When you complete the questionnaire, you will get a list of opportunities created by the program.
You can then explore those opportunities and choose the curriculum that interests you most. Completing an internship, whether in high school or college, will give you great insight into different career options. As a student, this will also give you a better understanding of where your education can apply.
Other Positions
Economic officers act as liaisons on foreign and domestic topics related to technology, research, economic growth, trade negotiations, energy shortages, and environmental concerns with members of a foreign government.
Compliance officers help coordinate all activities at embassies across departments. This job requires fast thinkers who, in the face of challenging situations, can devise problem-solving strategies. Management officers are trained in a number of occupational fields, depending on the needs of the appointing office of the particular officer.
Political officers are responsible for an overview of their host country's political environment. These officers must be able to communicate effectively with foreign government representatives and negotiate with them as required. You will need to be well trained and have the expertise to analyze circumstances effectively. Additionally, they should be able to discuss topics of international interest with other agencies.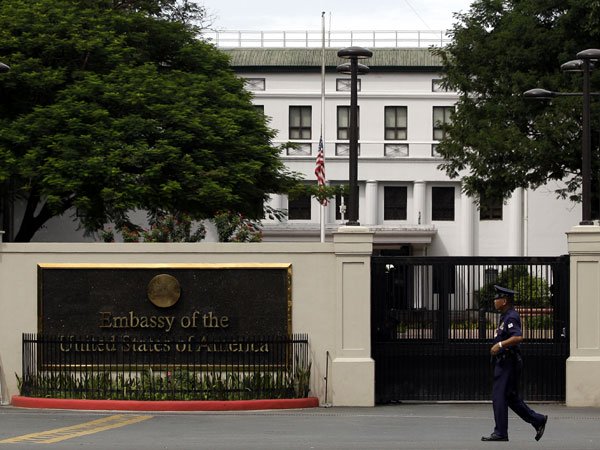 Conclusion
Ultimately, if you want a job at the US embassy, understand that it is serious work. You will have to set yourself apart to land one of these positions. However, with these tips, you will have a job in no time!
Additionally, for more careers in the Philippines, click here.
Featured image: manila-faq.com