If you do your buying and selling online, you'll need a Paypal account one way or another. The idea of Paypal is to make our buying experience easier. Don't want to enter your card number everytime you make a purchase? Done. Want an extra layer of security with your money? Done. Want to receive payments fast and easy? Done. So here's a very easy-to-follow guide on how to sign up for Paypal
Part I: How to Sign Up for Paypal: Easy-to-Follow Guide
Step 1
Go to paypal.com. The homepage should look like this and the "Sign-up" button is at the upper right-hand corner of the screen. Just click or tap the sign up button and it will route you the next page.
Step 2
You will then be routed to the next page where it will ask you to choose between "Buy with Paypal" or "Receive Payments with Paypal."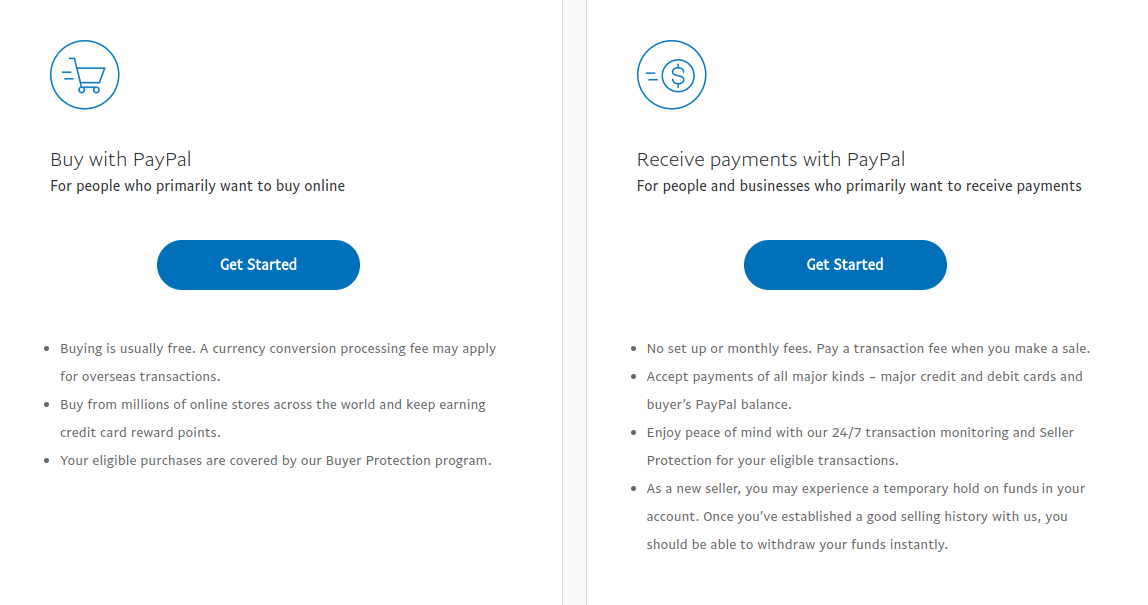 Choose "Buy with Paypal" if  you're just a regular user who shop and buy online. Note that you can still both receive and send payments with this account.
Choose "Receive Payments with Paypal" if you're a seller or you intend to use it as a business acount where you receive various payouts from several sources and send invoices to customers regularly. Although named "receive payments", note that this account will still enable you to send payments.
Step 3
Enter your information. Depending on the account type you signed up for (Buying or Receiving), you'll see different requirements.
Here's what you'll see if you sign up for a Buying or Personal account: country, email and password.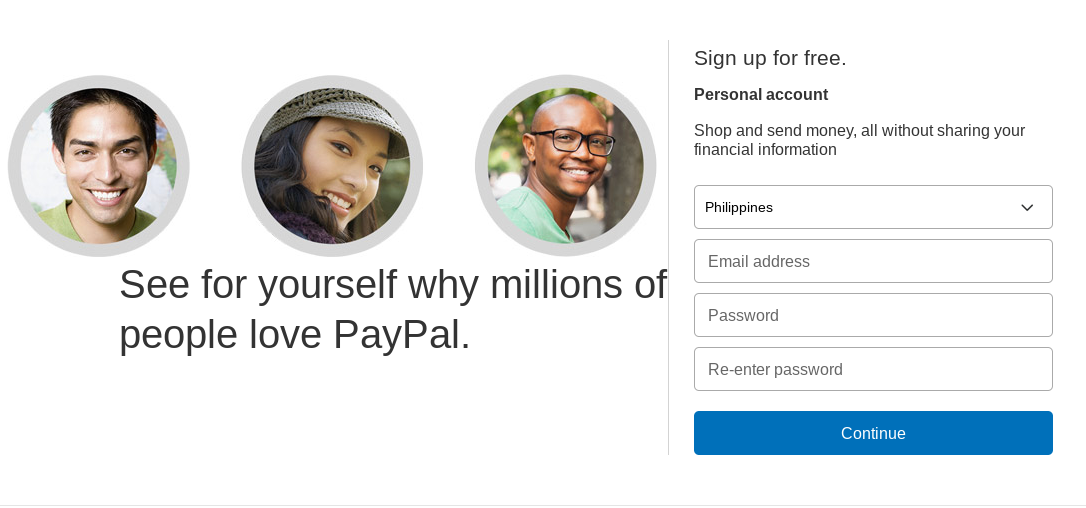 Here's what you'll see if you sign up for a Receiving or Business account: email, password, name, your business name. mobile number, business address and your preferred currency.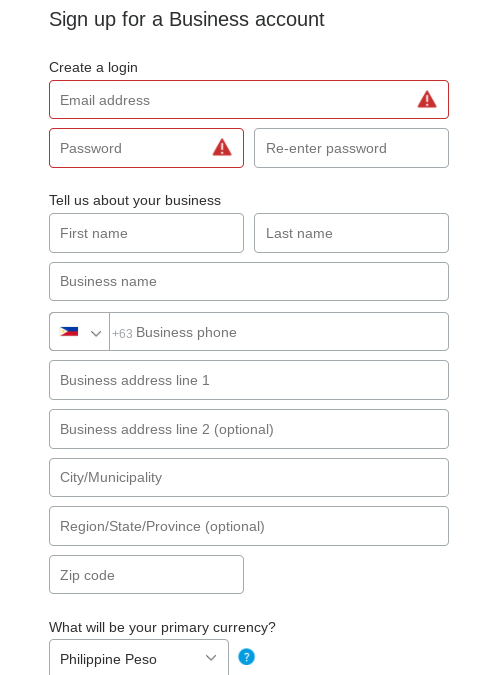 Step 4
One done, you can read the terms of agreement, click the checkbox to indicate that you agree to the terms and conditions and click "Agree and Create Account."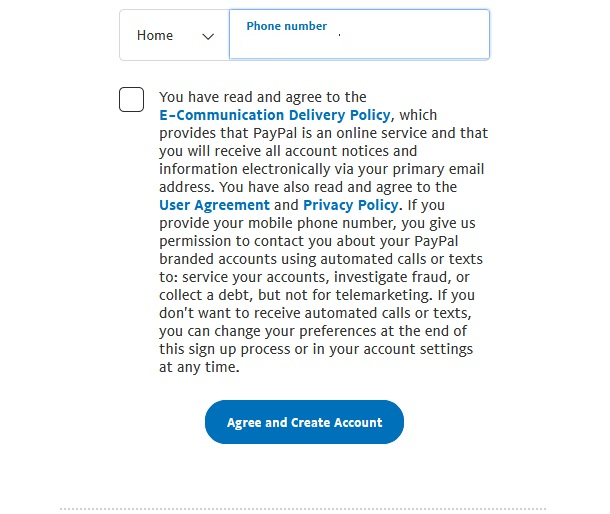 Step 5
Paypal will then send you an email asking that you confirm your email to activate your account. Just hit "Confirm Email Address."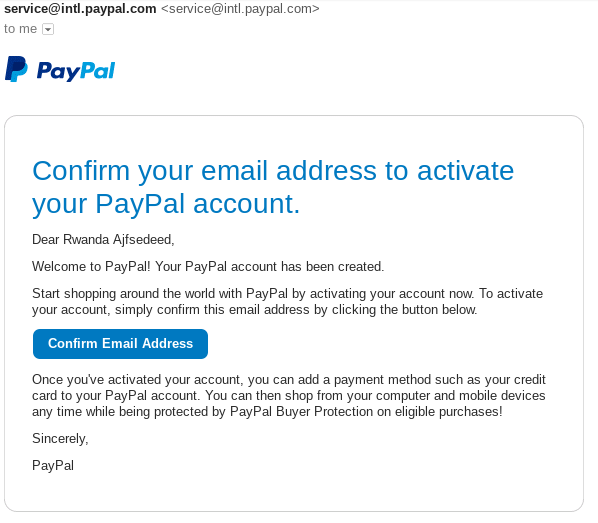 Step 6
Once clicked, it will then route you to another page asking for your password. You should now be able to log in to your Paypal account.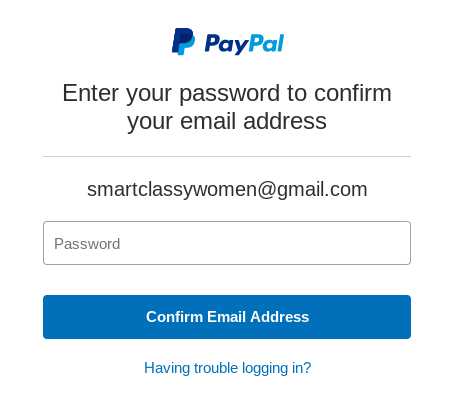 Part 2- Link a Debit/ Credit Card
Why connect a debit/credit card
If you are to withdraw and deposit money, that means you have to link or connect a credit/ debit card to your Paypal account. When logged in to your account for the first time, you should see the "Link a Card" option. Click that and you'll see this: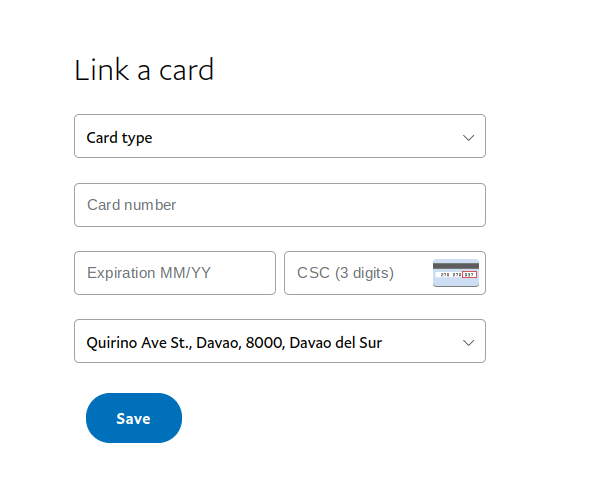 Card type: You should find this info on your card. It could be Visa, MasterCard, Discover and American Express.
Card number: The 16 digit code at the front of your card
MM/YY: Copy the expiration date stated on your card
CSC/CVC: The last 3 or 4 digit code located at the back of your card
Billing Address: The address registered with your bank.
Once you click "Save", here's what happens: Paypal will charge your account $1.95 USD (PHP200 more or less) as a verification. Note that Paypal will refund this within 5-7 business days. The charge is to make sure you own the card and avoid fake identities.
Along with the charge is the 4-digit code you need to confirm. The idea is, if you're the owner of the card, you should have no problem confirming that 4 digit code. That's why Paypal charges your card and generates a 4 digit confirmation code with it.
Part 3: Find the 4 Digit Confirmation Code (the confusing part)
This is where most of us gets confused but here's the answer:
After you enter your card info, you'll receive an email from Paypal saying:
Thanks for choosing to confirm your card.  You've asked to confirm your card ( x-) on your PayPal account on 25 December 2016. To make sure the card is yours, we made a small charge to the card to display a unique 4-digit PayPal code on your card statement. It usually takes just a few days before you can see the 4-digit code from the transaction details or online statement of your card. If you can't check the information online, you may need to wait for your monthly card statement from your card issuer (this can take up to 30 days).
The 4-digit PayPal code will be displayed on your card statement as shown below.


In this example, 1234 is the PayPal code.
Once you have the code, you can log in to your PayPal account and enter the 4-digit code to confirm your card. The charge made to your card will be automatically refunded to you within 24 hours once you've successfully confirmed your card. Depending on the card issuer, it might take up to 30 days for your refund to appear on your next card statement.
The only problem is…
For most people, they could NOT find the 4 digit code from their online statements. I looked everywhere. Nothing. So what I did was email the Customer Service of my bank and asked:
Hey, how do I confirm my Paypal account? I don't see the 4 digit code that Paypal's email below is talking about. All I see in my EastWest account was "VISA POS Debit" under Description. How do I get the access to this 4 digit? Thanks!
Here's my bank's response:
The code will be sent directly to your issuing bank. Your Paypal code is 5664.
Problem solved.
If your bank doesn't give the code through email
Banks like BDO don't give the 4 digit verification code through email. In this case, you have to call their Customer Service hotline and ask for it. It's probably more secure over the phone. I say just give them a call. Once you get the bloody code, your problem is over and you'll have your own verified Paypal account for receiving and making payments.
Hope this helps!
You May Also Like: How to Make Money from Home While Jobless (Get Paid Through Paypal)