If you want to work in the comfort of your own home without having to deal with the messy traffic, decide when to work and how long, if you're a stay-at-home mom, a student, or unemployed who's looking to earn extra, Humanatic is for you. Here's my Humanatic experience and review.
What You Need:
There is also no job interview or any human interactions when you apply. It's just you and the following:
Laptop
Internet
You should understand English conversation.
Paypal account
To those who don't know, Paypal is like a credit/ debit card that you can use to make and receive payments. The reason why people prefers Paypal than directly using their cards is the extra security and convenience.
Humanatic only processes salaries through Paypal. Here's a complete instruction on how to sign up for a Paypal account: How to Sign Up for Paypal (The Easiest Guide with 2018 Screenshots) . Note that you need to have an ATM/debit/credit card in order to sign up. It's where Paypal sends your money.
What does Humanatic do?
If you've called a call center before, you might have heard this before the operator answered the call:
Your call is being recorded for quality purposes."
That's where companies like Humanatic comes in. They hire and pay people to review those calls.
My Humanatic Review: How I Earn from Home While Jobless
How hard is the job? Not hard at all. Your task will depend on the category of each call you review. For example:
Example 1: Live Conversation-inbound category
You need to determine whether or not the caller was properly connected and had an actual conversation with a qualified employee. And if so, how long.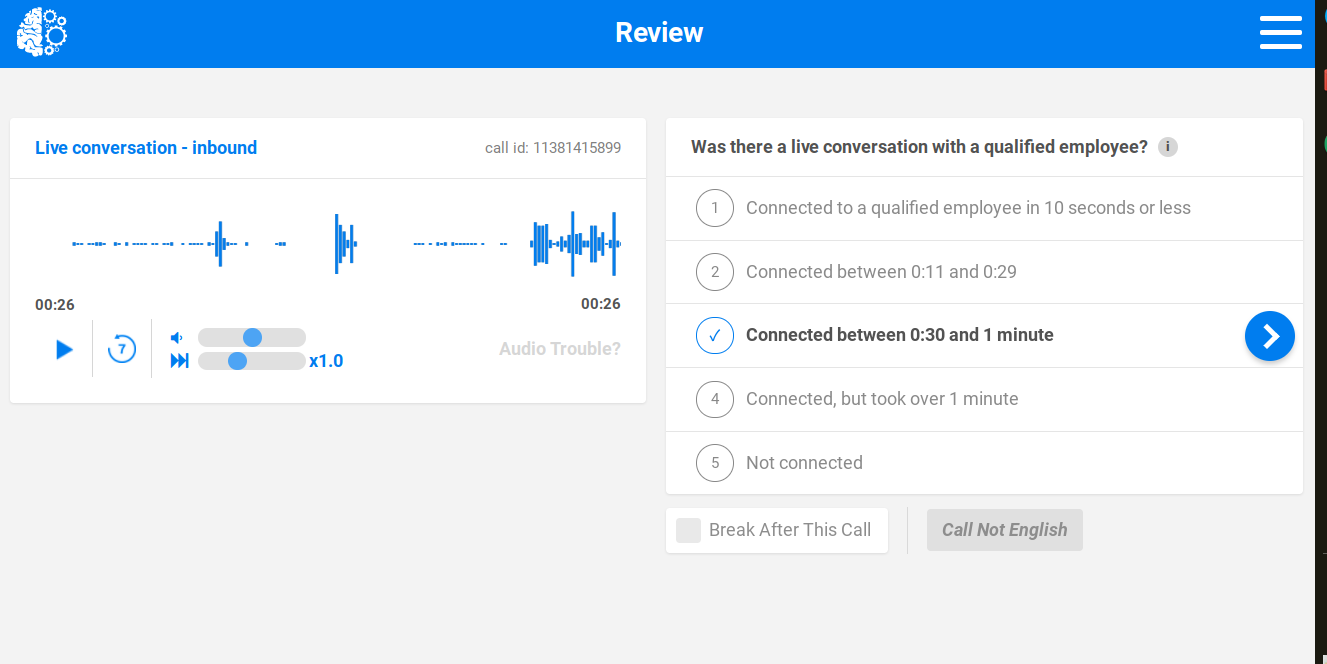 As you can see, you just have to click which applies during the call- 10 seconds or less, between 11 seconds and 29, 30 seconds to 1 minute, more than a minute and not connected at all.
After that, you earn your cents, then you can proceed to the next call. Simple as that.
Example 2: Handled By
The purpose of this category is to determine the name of the agent who handled the call and assisted the caller at the end of the call. All you have to do is to listen to the last agent who said, "Thank you for calling _(company name_. This is _(agent's name)_. How may I help you?"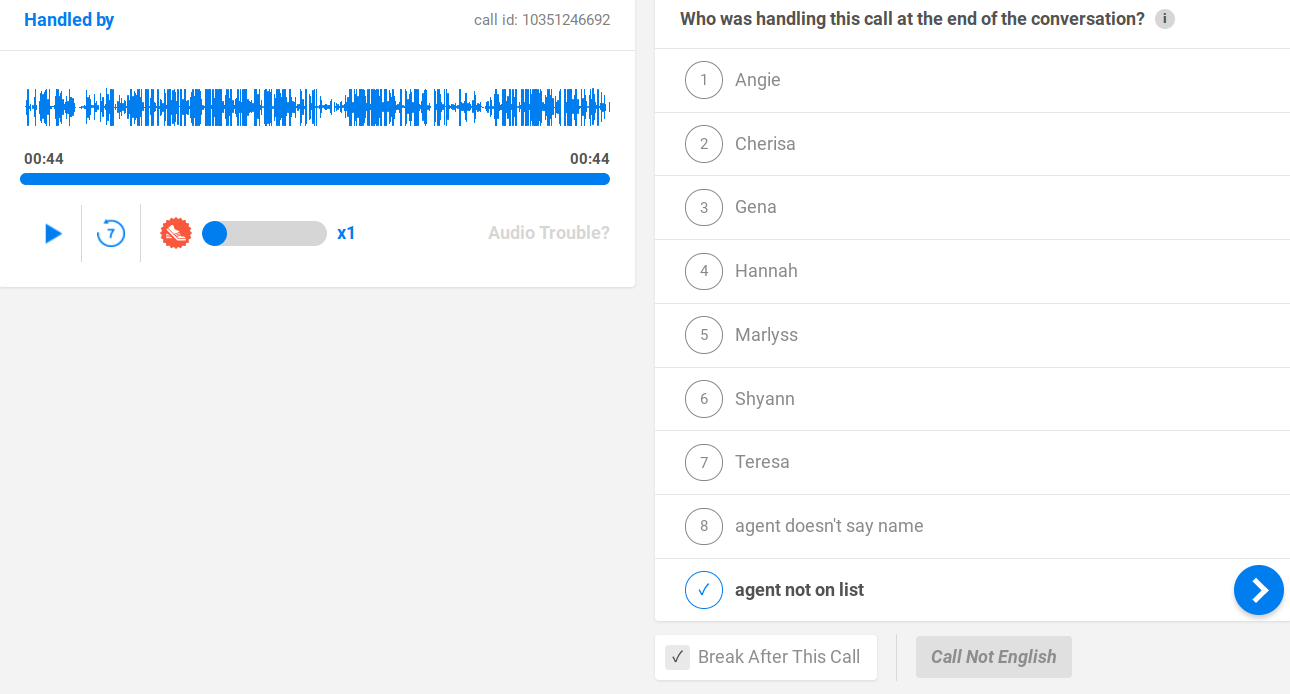 Example 3: Car Wars Summary
In this category, you have to summarize the important information the agent and caller discussed during a car sales call. I like this category so much because it pays the highest.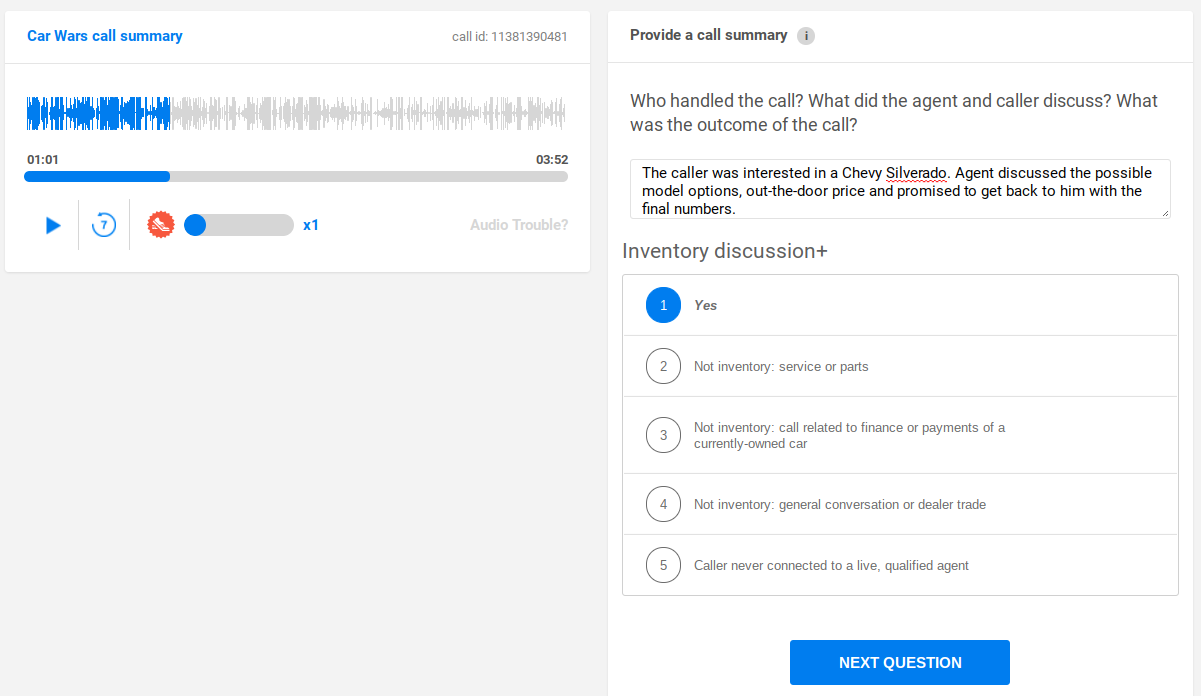 And then, you have to determine whether an appointment was set for a firm date/ time, soft appointment, no appointment, or if the appointment attempt was declined by the caller. After that, you earn your money.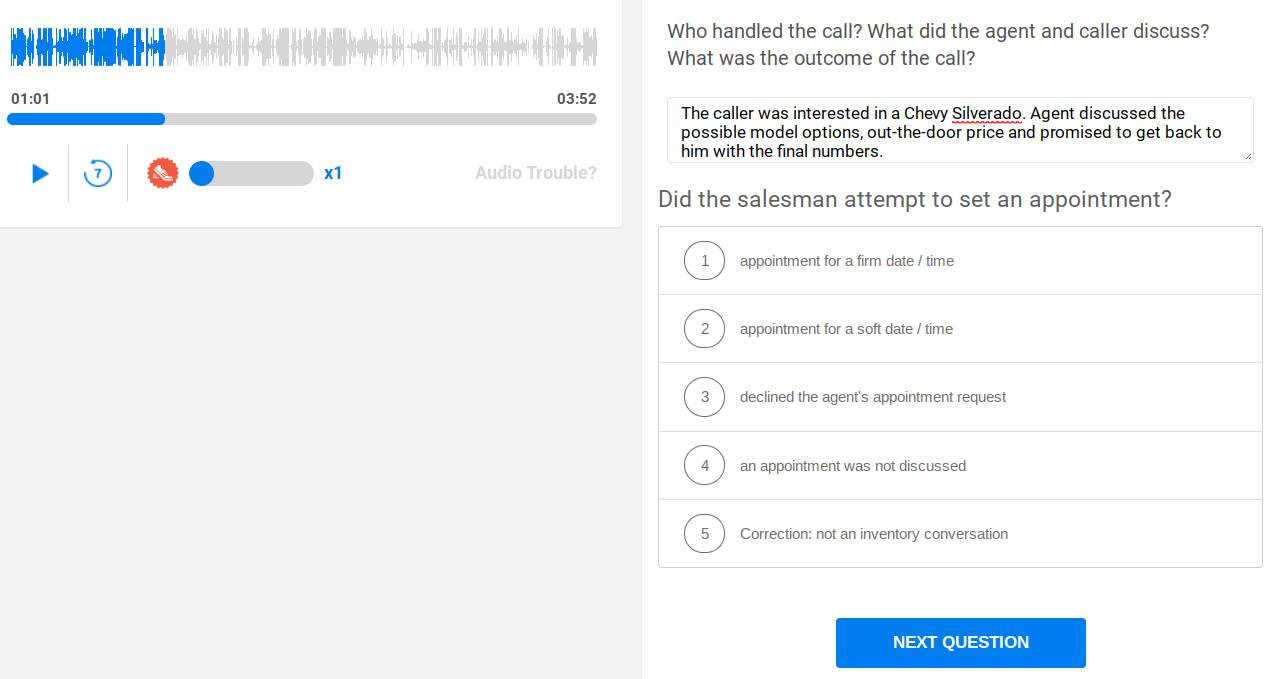 How Much Can You Earn?
You're paid per call, not per hour. This means if you're fast and accurate at the same time, you earn more.
Depending on the category, the payment per call could be as low as 1 cent or as high as 35 cents. The easy categories like Inbound Conversation is 1.2 cents per call, Handled By is 1.7 cents and Car Wars Summary (which takes longer to finish) pays 13.5 cents to 35 cents per call.
For now, I earn around $4 – 4.5 an hour (Php200-Php225). Depending on where you live, this might mean nothing. But in the Philippines, this is already a big hourly rate; in fact way higher than most jobs in the Philippines.
What to Expect When You're New
1.) At first, you'll earn low, probably around $1 or less per hour.
That's because as a newbie, 1.) you're still not used to it and 2.) not all categories will be available for you to review.
The only way to unlock new and higher paying categories like Car Wars Summary is to review each call accurately as possible. Once you reach around 92%- 95% accuracy, new categories will unlock letting you earn more.
2.) One mistake equals double deduction
In each call, there are around 5 of you to review one call. If your answer is different from the others, the system will automatically prompt the 5 of you to prove how your answers are correct by commenting on it.
After that, a moderator from Humanatic will decide who got right answer. Whoever answers wrong will be deducted double, and the right ones retain their earnings.
Therefore, accuracy is more important than speed. So take the time to read and learn the instructions before answering. It'll save you lots of time and frustration. The speed will come later.
3.) The volume of calls is irregular
There are days when there are only few calls to review. There are also days when the site is flooding with calls, at which point, Humanatic gives bonuses to those who work.
So if you're looking for a side income, Humanatic is perfect for you. But if you're expecting an 8 hour job setting everyday, don't.
But I have to say that since I started working last September but there isn't a week that I don't earn. It may be a little bit lower or higher but I always receive money each Tuesday.
Pros:
Work anytime, anywhere.
You decide how long you work.
You don't have to deal with rain, traffic, and getting late.
Unlike most online jobs, you don't have to worry during a bad internet connection (which is common in Pinas) simply because you have no boss to report to.
Pays weekly.
In the Philippines, this income is already decent.
Cons
Double deduction per mistake
Volume of calls is irregular
Depending on where you live, the salary might not be enough.
Verdict
If you live in a place where the cost of living is cheap, you completely live off from your Humanatic income. If not, find another income source.
My Humanatic experience has been great and I certainly love its flexibility. I only work 4 hours a day, and the rest of the time, I spend with my blog.
Click here to apply. Hope this helps. 🙂