So you want to sell on Shopee. And you need a complete guide. Look no further as I'll walk you through on how to set up a Shopee store, how to add your shop's photos, pick up address, add products, and how to enable free shipping and COD.
No option could have been better than Shopee. In fact, it's even better than Lazada and Zalora because it charges zero commission fee. Meaning, your sales are 100% yours and Shopee takes no portion from it.
Now nobody knows whether Shopee's gonna keep it that way in the future but one thing's for sure: You should start now to take advantage of the free commission.
UPDATE April 20. 2019: Shopee Philippines is now charging 1.5% transaction fee (VAT inclusive) of the total payments you receive from your buyers.

Meaning, everytime you transfer your sales to your bank account, a 1.5% charge will kick in.
So sit back and follow these steps on how to set up your Shopee store.
Note: All the screenshots in this tutorial were taken from a desktop so I would advice you to use your laptop/ desktop instead of mobile to avoid confusion. It's also faster.
Part 1: How to sign up and add your pick-up address
Watch this step-by-step video tutorial I created on how to set up your Shopee store. This includes:
signing up for a seller account
adding your shop name, description, cover, and profile photo
adding in your pick-up address
Part 2: How to add your products
Tips when adding photos and item description
When adding an item description, it is very important that you don't leave out an important info. Ask yourself, "If I were the buyer, what would I want to know about this item that will lead me to buy?"
If I'm buying a dress, I would want to know the following:
Style (fit and flare, skater, bodycon)
Length (knee length, above the knee, below the knee)
Exact measurements of the bust, shoulders, waistline, and hips
Fabric
Color
For the photo, I would want to see all the angle of the dress.
The front
The back
A key feature that makes the item looks special (example: the tie knot of the spaghetti dress, or the crochet details of a top)
The texture: Not all customers are familiar with all types of fabrics. But capturing a closeup photo of the item's texture will definitely help the customer gauge the feel of the fabric.
A model wearing the item: Optional but in my opinion, items portrayed with models attract more buyers. That doesn't mean that items with no models don't sell. They do. Besides, there are effective ways to beautifully capture an item's image without a model. Search "item photography" in Google.
Part 3: How to activate free shipping and COD
To check if your pick-up address is serviceable for COD, click here.
COD and free shipping aren't automatically activated upon sign up and not all sellers can actually apply for it. Here are the requirements:
You should at least list 10 items minimum.
Your pick-up address must be serviceable by one of these Shopee courier partners: Black Arrow, Xpost, and Ninja Van. Otherwise, you can't have the COD and free shipping in your account. You still can sell, but you'd have to use other courier as Shopee won't be picking it up.
It'll take 7 days for the system to automatically activate your free shipping and COD. When 7 days is reached, you'll receive an email confirming it.
If you want to know how to ship and pack the orders once you make your sales, read this post: How to Ship Shopee Orders: Everything a Seller Should Know.
Part 4: How to add your card info
What's in this video:
a quick walk-through on the Seller Centre
how to add your bank info where Shopee deposits your sales
How you get paid
You need to have your own bank account where Shopee can deposit your sales. Once your buyer confirms that she's received the order, Shopee will then release your money to your bank account. Very simple. You can then use that money to buy more stocks and roll your capital.
"But I don't have much capital to stock up items that might not sell."
If you want to know how much capital you need to start selling on Shopee, read How Much Capital You Need to Start Selling on Shopee and you'll see that it varies depending on how far you're based from your supplier.
In most cases, sellers don't have much capital to stock up items and will need the buyers' payment before they can fulfill the order.
Shopee, as excellent shopping platform as it is, recognized this problem and created the Pre-Order Feature which tells the buyers that a certain item is a pre-order item and will take a while to ship from the order date.

Shopee seller tips for a bigger sale
Take advantage of the free "Boost" button.
As you may notice once you go the Products Page, you'll see a little Boost Button at the bottom of each product. This function helps an item be seen by customers based on the category and keywords you set it for. As of the date of this writing (July 2018), you can boost up to 5 items which will last for 4 hours. You can repeat every 4 hours.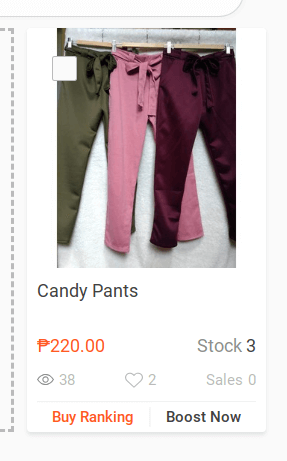 Best time to boost a product
Shoppers don't buy when they're asleep so it's only common sense to boost your products during 10:00 AM to 8:00 PM. The disadvantage? You'll be competing with a lot of items with the same keywords. That said, I suggest that you try boosting your item at night or even at dawn, if you get a chance. Just a little experiment. When I used to shop in Zalora, I usually shop around 4 AM before work. There may not be a lot of customers, but there's also little to no competition.
Bottom line: Boost your items every chance you get. Hey why not? It's free! Or if you have a budget to spare for advertising, then you have the paid option too, which you might not want to do during the early stage of selling.
Log in every single day.
This is a tip I heard from one Shopee seller who's been doing it for 3 years.
By logging in everyday, you're basically telling the Shopee that you're active and ready for business, that you're ready to answer inquiries; that you're an active seller. And Shopee loves active sellers. It means more sales.
Answer your customer's chat message as soon as possible.
Especially when you're just starting out. You want all the buyers to be on your side; to give you 5 stars and positive reviews. Because buyer's reviews will play the most important role in determining whether your sales will soar or flop. So answer all your customers' inquiries with haste and don't keep them waiting. Remember, you're not the only seller in Shopee.
Don't sell crappy products
You may get away with selling a poor quality item once or twice but your luck isn't gonna hold forever if you keep doing that. Remember, your buyers have the ability to ruin your shop's reputation by leaving a 1 star review with a detailed explanation why your product and service sucks.
So make sure that before shipping your products, you've inspected it for quality. In short, do NOT do anything stupid to piss off your customers.
If you don't make a sale on the first 2 months, don't feel discouraged.
Shopee success doesn't happen overnight. Although Shopee makes it easy for sellers to start, there are things that you need to work on before you can successfully establish your shop as trustworthy and worthy of sales: customers reviews, consistency, and quick and excellent customer service.
As long as you're implementing these guidelines and with some patience, there's really nothing to worry about. During the first 2 months, you aren't going to make a lot of sales. I'd like to call it as "the courting stage" when you're still winning Shopee's approval and you're still establishing your presence
Rest assured though that Shopee will eventually send some customers your way. And by then, trust that it will not let you down as long as you don't let your customers down. Patience and consistency is key.
Update:
I've also written related another topics about the following:
Expect more to come in the future. I hope this helps. Questions? Drop them down below.