It's supposed to be simple. You sell items, customers buy them, you earn, rinse and repeat. Or so you wish. Unfortunately, that wasn't always the case, especially for sellers with crowded niche. If you're wondering why you aren't seem to be getting that much sales, and you'd like to discover some tricks and tweaks on how increase Shopee sales without paying for ads, read on.
By the way, if you're still in the process of starting your Shopee store, read this instead: How much capital do you need to start selling on Shopee?
Note: This activity will require a laptop. Most functionalities I'll discuss here are only accessible in a laptop/ desktop and NOT in the Shopee app.
1. Take advantage of the "Boost" button.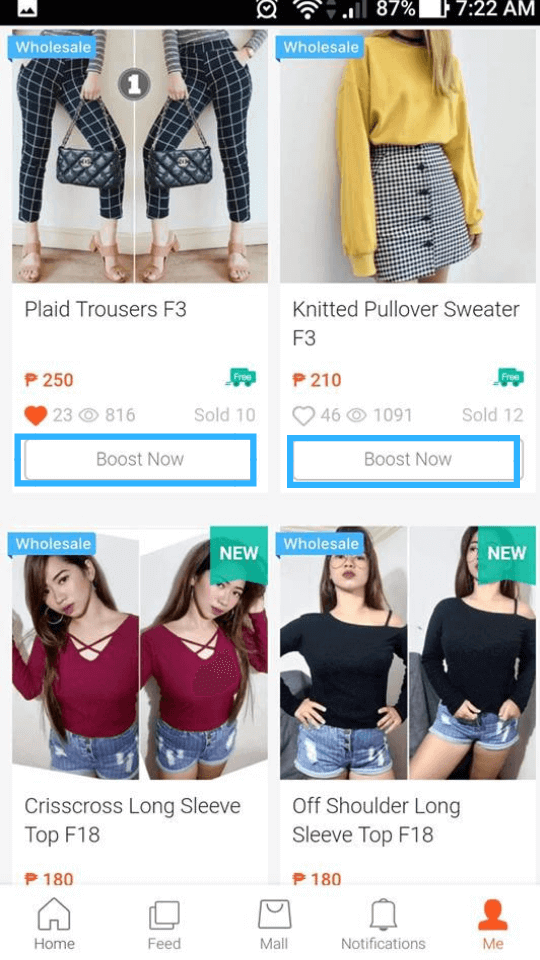 The Boost function highlights the keyword you assign to an item so that when a buyer searches that same keyword, your item appears among the top results. The only downside is, if other sellers are also boosting items with the same keyword, you're gonna have to compete with them, too. But hey, compared to not boosting your items at all, your items surely have a better chance of being seen by customers.
Note:
You can only Boost 5 products at a time within 4 hours. When the 4 hours is up, you can then choose different or similar items to boost.
The best time to Boost your items is ALL THE TIME.
You can Boost anytime through the Shopee App or through a browser.
(If you're new to Shopee, and you want to know more about how the platform works, read: How to Sell on Shopee and Earn: A Guide for Beginners.)
2. Optimize your shop categories.
Think of categories as a way to make your shop easier to navigate, thus encouraging more sales. This function also comes in handy when, for example, apart from the boring category names like "Dresses", "Tops", and "Pants", you want to add categories with catchy names to attract buyers' attention. Names like "New Arrivals", "Bestsellers", or "On Sale".
How to optimize your shop categories:
Log in through a browser. My Shop Categories isn't accessible in the app.
Go to https://seller.shopee.ph/.
Click My Shop Categories.

You then have the option to either add a customized category and fill it with items of your choice, or you can activate Automatic Categories which are already auto-filled with items.

You can also rearrange which categories go on top.
Once done, your set categories will show up on your store's front page when buyers click "View Shop".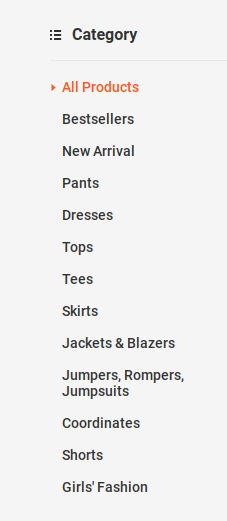 3. Don't leave "Top Picks from Shop" blank.
While categories show up on your front page to help buyers navigate, Top Picks from Shop is even more important— it shows up on every item page your customers visit! Desktop users see it at the right sidebar while app users see them right above Product Details.
This means the items you put under this function have a higher visibility rate, and therefore, garner higher sales.
I highly recommend that you place only your best items here (the bestsellers and the ones you think your target customers would love to buy). If they like what they see, there's a fat chance they'll click on it. And that is one of the best free ways on how to increase Shopee sales.
How to set "Top Picks from Shop"
Log in through a browser. Top Picks from Shop isn't accessible through the app.
Go to https://seller.shopee.ph/.
Click Marketing Center then Top Picks from Shop. Once there, click "Add Collection".

From there, choose your best ones. Note that you can only put up to 8 items.
You can also create multiple collections but you can only activate one at a time.
4. Consider creating vouchers.
Vouchers let buyers know that if their purchase reach a certain amount of order, exclusively from your shop, they'll get a certain amount of discount. This is a great technique to encourage your customers to buy more from your shop. Who doesn't love discounts, anyway?
How to set your shop voucher:
Go to https://seller.shopee.ph/.
Click Marketing Center --->My Vouchers----> Create New Voucher.
Follow the instructions I wrote in the images.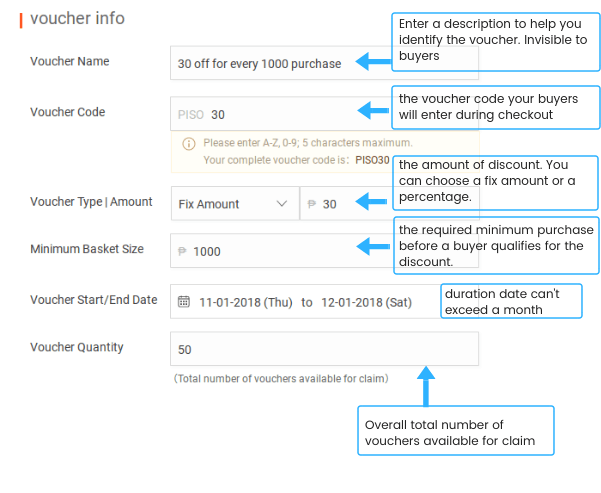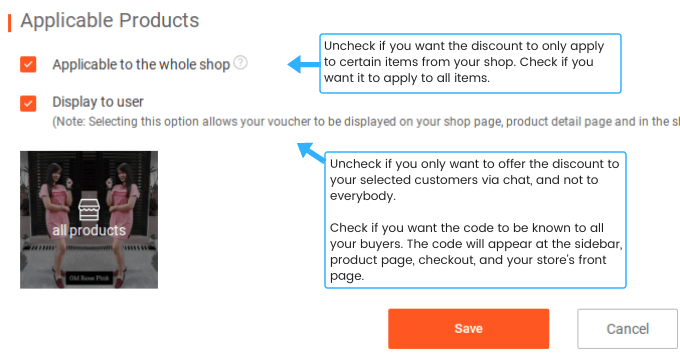 Hit Save. Once saved, the voucher code becomes active and ready share to your buyers. If you chose to display the voucher code to your users, the code should appear on the item page, your shop's front page, checkout page, and at the right sidebar for laptop users.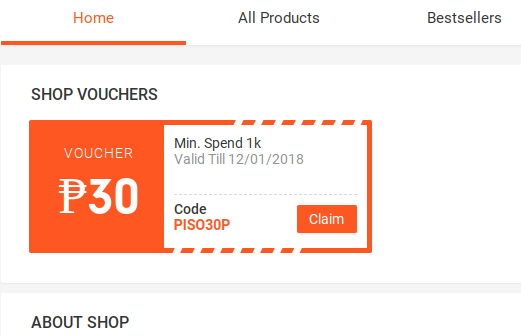 5. Experiment with discount promotions.
Discount Promotion is a little different from Voucher code because your buyer doesn't have to enter a code; the discount automatically applies to the item you choose to mark down. When an item's under a discount promotion, buyers will see the amount of the discount. Like this: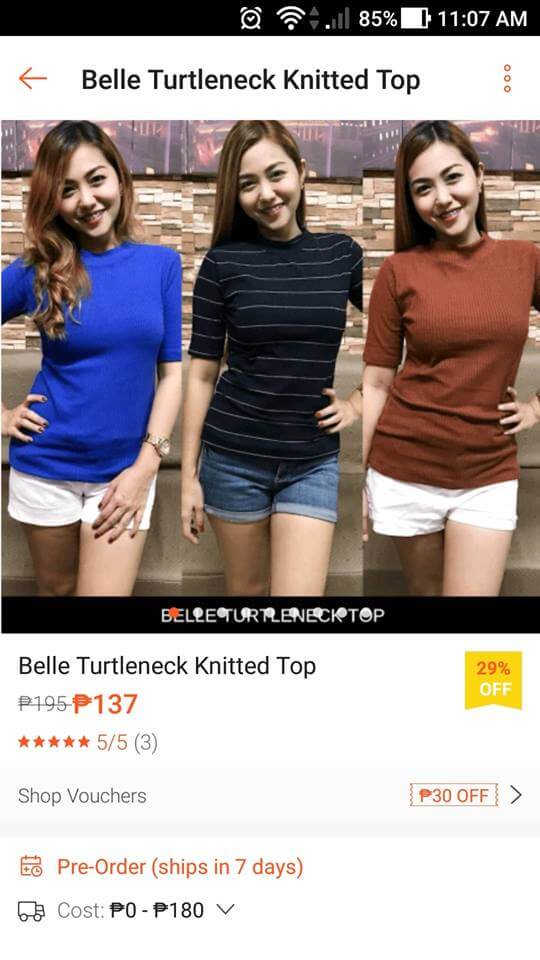 How to set discount promotions.
Go to https://seller.shopee.ph/.
Click Marketing Center --->My Discount Promotions----> orange New Discount Promotion button at the top right portion of the page. Then you'll see this.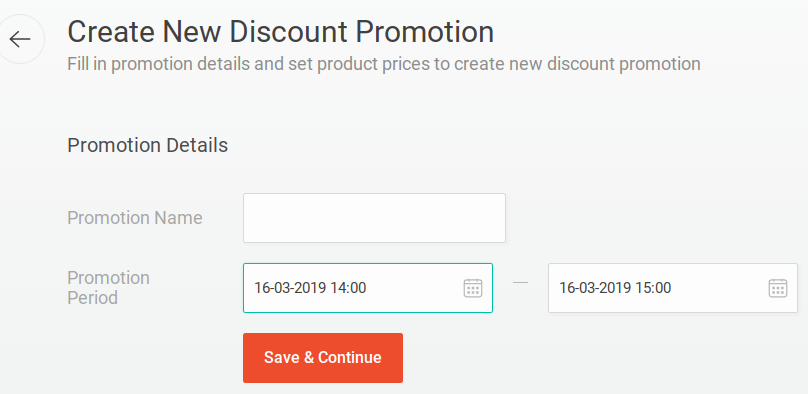 Fill it out according to your preferred discount.
Hit the orange button Save & Continue.
Click Confirm.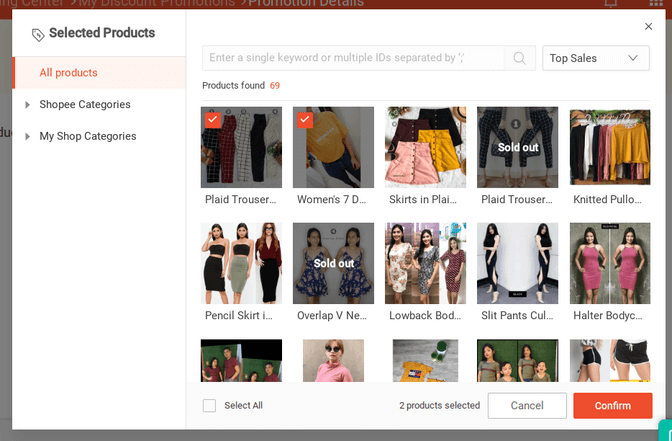 Search and check all the items you want to discount. Hit Confirm.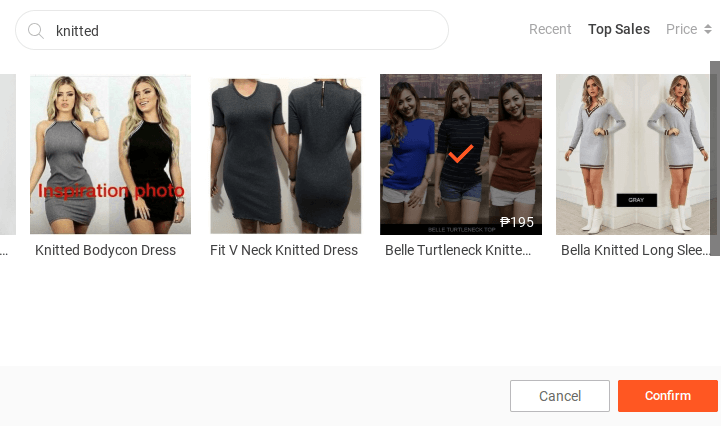 After that, either fill out Discounted Price or Discount to indicate your desired discount price. You can also choose to exclude/ include a specific color from the discount.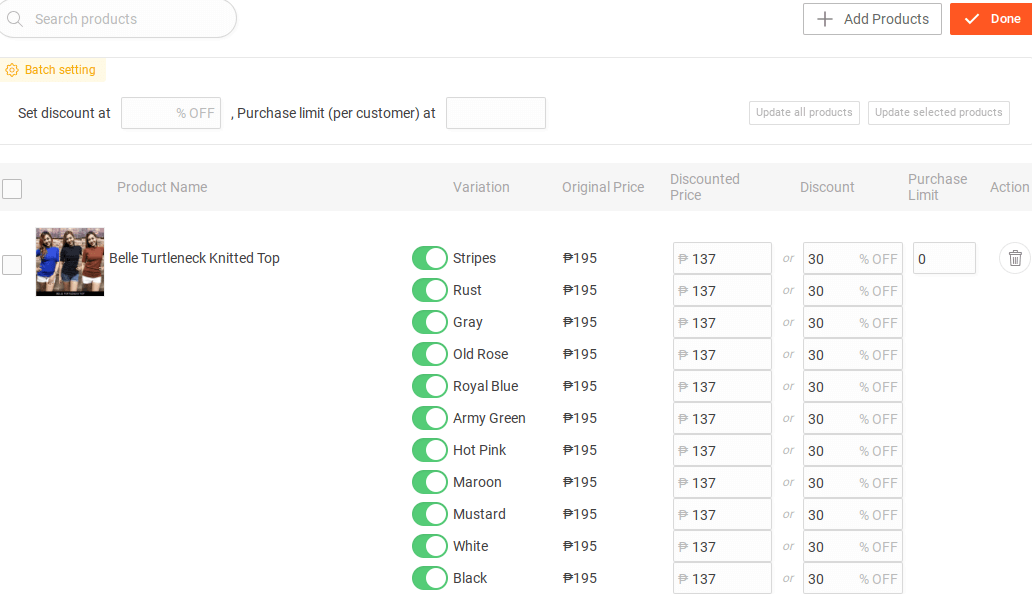 Hit Done at the top right corner of the page. Provided that the start date of the promotion is the same date as when you set it, you should already see the discount reflected once you open the item page.
6. Nominate your items during "Campaigns".
Campaigns help your products get more exposure. Here's how: For example, Shopee wants to highlight all men's apparel for the whole week. Shopee then invites sellers to nominate their best men products.
To nominate a product, you set the best discount you could offer for it. Once set and approved by Shopee, that discounted price you set is going apply for the entire campaign duration. In return, Shopee will randomly display your nominated item/s to the Shopee homepage, along with other sellers', giving you more exposure and a better chances to increase your Shopee sales. Once the campaign is over, the price will revert automatically.
The idea is simple. Offer Shopee users your best products with the best discounts, and Shopee will give you exposure. An increased Shopee sales for you means more money for Shopee. Everybody wins.
How to find upcoming campaigns
Go to https://seller.shopee.ph/.
Click Marketing Center --->My Campaigns.
You should now see Upcoming, Ongoing, and Expired campaigns.
7. Maintain a high chat response.
Buyers are more likely to purchase if there's a human ready to give prompt answers to their questions. Sure, there are buyers who don't read item descriptions and ask even if their questions would have been answered by simply reading. As irritating as this might be, you'll still do well by answering their chats because:
Shopee displays seller chat performance percentage. Now, nobody knows the exact Shopee algorithm, but I bet it would be safe for every seller to assume that Shopee favors sellers who address their customers' inquiries promptly.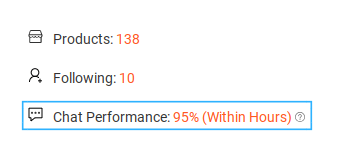 High chat response let your customers know that you're serious about selling. How would you feel, as a customer, if you come inside a store without a salesperson?
8. Take beautiful item photos.
Your products might have the best quality of all products in Shopee but none of them would matter if your photos are crappy. They just wouldn't sell.
And mind you, great item photography doesn't have to be expensive. You don't need a DSLR to take great photos; a decent priced smartphone (which you use daily anyway) will do. You don't have to buy lighting equipment; natural lighting will do.
What I recommend is you learn the basic of item photography: how to find the best natural lighting, how to tweak the settings of your smartphone to capture the best image possible, and the basic principles of photography. Search these info in YouTube.
Or better: there's a site called Skillshare where you can learn just about any skills you want (example: smartphone photography) and offers 2 free months of trial period. (It'll ask for your card info upon sign up but won't charge you until your 2 months is up. Should you decide to discontinue your membership, make sure to cancel before the trial is up.)
You want to learn how to increase Shopee sales? This one's free for 2 months!
9. Don't miss out on social media.
Currently, the best social media platform for e-commerce are Facebook and Instagram. Instagram focuses on photography which is great for showcasing your products. Facebook, on the other hand, now has a Marketplace where buyers and sellers interact, FB Groups where sellers can update their buyers of the latest items, and FB Page to promote and even create ads for your business.
What I normally do is post my items in the Marketplace, Group, and Page, then attach a link redirecting shoppers to my Shopee store.
10. Your shop rating should be no less than 4.5/ 5 stars.
If you have a lower rating than that, it's about time that you give it some serious attention. Is it the late shipment? Low chat response? Or the quality of your products? It isn't too late to improve your shop rating up to 4.5 stars or above.
If the quality of the items is the main cause of your shop's bad rating, fire your suppliers and look for another. Why let it ruin you?
Late shipment? That's a hard one. When the package ships, it's no longer under the control of the supplier but the courier. If Black Arrow, LBC, or Xend deliver the order late, the buyer has all the freedom to give the seller a bad rating, even if it's obviously the courier's fault and not the seller's.
You can, however, minimize it. Under your shop profile, inform your buyers that late shipment isn't under your control, and that giving a 1 star just isn't fair. If their order happens to be late, you will, however, gladly contact the courier for them and follow up. This way, they'll clearly see that the bad experience had nothing to do with you being an irresponsible seller.
You might not get a 5 star but you're unlikely to get a bad rating either. In most situations, buyers who initially know that the late shipment isn't their seller's fault, don't rate. (And that's better than getting 1 to 4 stars.) They'd feel guilty. After all, you'd help them contact the courier for them.
11. Keep experimenting.
Online businesses in general are constantly changing and evolving. The techniques that currently works for you might no longer work in the future. As an online entrepreneur, don't be stagnant and expect everything to remain the same.
Shopee as a selling platform isn't stagnant, either. Almost every week, they introduce new things (Shopee Shake, games, promotions, etc.) to keep their sellers and buyers interested and the wheels turning in their favor.
What this means for you: Learn everything there is to learn about online marketing. Stay curious. If everybody seems to be using Facebook and Instagram, perhaps it's about time that you do something a little extra or perhaps different? When you stay curious, you don't lose interest and boredom is out of the question. Instead, you feel challenged; you strive for more and even enjoy it. You're not just bringing food on the table but you're also savoring the journey. After all, isn't it rewarding to run your own show?
You might also like: