When I first opened my Shopee store last year, it took me a while to understand how the different Shopee shipping method works. So if you're a beginner Shopee sellers who just opened your Shopee store and still confused on how to ship Shopee orders, this is for you.
I'll explain the two types of shipping method, who's responsible for packing your orders, how to better prepare for each of them, and the crucial details you should know before shipping your Shopee orders.
2 types of Shopee shipment
There are 2 methods of shipping your Shopee orders:
Pick-up by one of Shopee's partner couriers
Shipment outside Shopee's partner couriers
Here's when to use each of them.
1. Pick up by Shopee's partner couriers
Currently, Shopee has 4 partner couriers for shipments in pouches:
Black Arrow Integrated
Xpost Integrated
2GO Integrated
Ninja Van Integrated
And these are the couriers for shipments that are too big or too heavy to be put inside a pouch. We'll talk about the packaging later.
Black Arrow Own Packaging
Ninja Van Own Packaging
Being Shopee's "courier partner", this means that if your pick up address is serviceable by one of these couriers, it means:
You can activate the COD (cash on delivery option) in your shop.
You can offer free shipping to your buyers for orders amounting up to ₱500. Meaning, more chances of getting sales.
These couriers will pick up your shipments for free. Meaning, you don't have to leave your house just to ship orders.
If for any reason your buyer doesn't receive your shipment, your package will be returned back to you free of charge. Meaning, you will not pay for the courier's wasted time and effort. Nor will your buyer.
It's such a cool deal! So if your area is serviceable in all of these Shopee, courier partners, consider yourself lucky as this means you'll likely get more sales.
Where I live, I only have Black Arrow. But that's certainly better than none. Now let's talk about shipping your orders outside Shopee's shipping couriers:
2. Shipment outside Shopee's partner couriers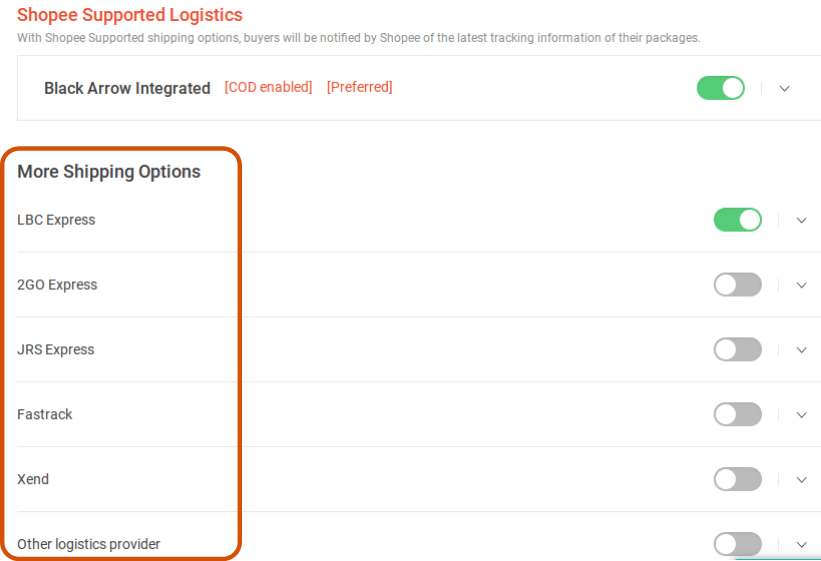 The couriers in the orange box are the alternative shipping options if your area isn't serviceable by Black Arrow, Xpost, 2GO or Ninja Van. In my case, I chose LBC since it's just 5 minutes away from home.
If using one Shopee's partner couriers is so awesome, why would a buyer use a shipment outside them? Here are the possible reasons:
Your pick-up location is not serviceable by any of Shopee's four courier partners. Meaning, you don't have a choice.
If you want to sell to buyers who live in a place where the four courier partners don't deliver, your only option is to use other couriers such as LBC, 2GO Express, JRS Express, Fastrack, Xend, etc.
What it means if you ship through a courier who isn't Shopee's partner:
You cannot offer free shipping nor a COD option on that particular courier.
No free pick-up either. You can either bring your package to one of the alternative couriers' establishments or pay extra for pick-up.
Your buyers will likely pay more for shipping. On the bright side though, your buyers will receive the orders faster. At least for LBC. I ship from Luzon so when I use LBC, my Metro Manila customers receive their orders within a day. 2-3 days for Visayas and Mindanao buyers. When I ship through Black Arrow, the delivery takes 5-8 business days from the shipment date.
If you want to provide a faster shipping option for your buyers. Some buyers are okay with the 5-8 business day time frame. Some can't wait that they're willing to pay for a rush shipping. This is rare. though.
How to pack your shipments in pouches
Since my items fit in a pouch, the packing is pretty simple. The pick-up guy brings a hundred pouches that last me 2 weeks, I pack the orders the day before, and when he comes for pick-up, all I have to do is stick the waybill sticker. Then off he goes.
Tip: On a tiny strip of paper, write down the corresponding order ID for each pouch and insert it in the transparent pocket of the pouch. This will avoid you from sticking the waybill stickers to the wrong pouches.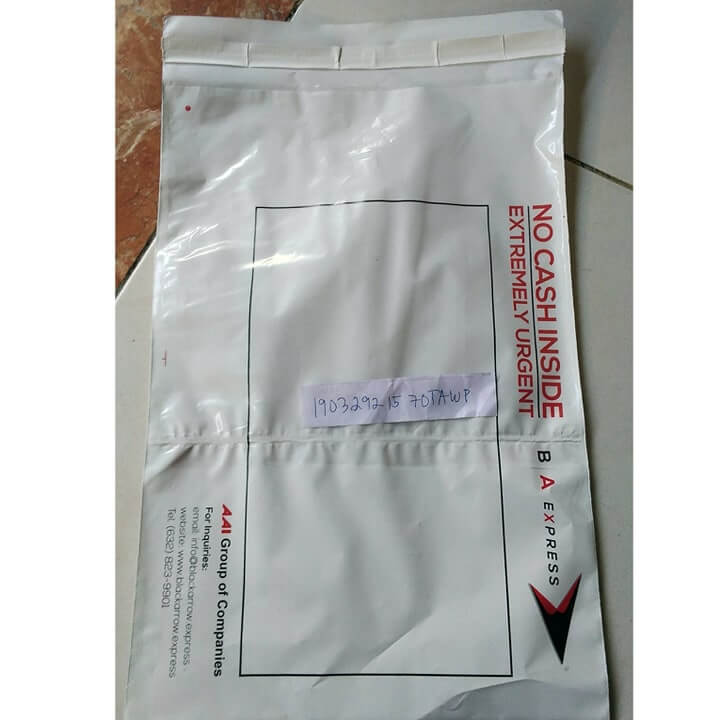 Who provides the pouches?
On your first day, the pick-up guy should bring you several pouches to last you until the next several shipments. To make sure he doesn't knock on your door empty-handed, call the courier's hotline and confirm the delivery of your pouches.
When that's about to run out, always call the courier's customer service so the pick-up guy knows when to bring the next batch of pouches.
Who provides the waybill stickers?
The pick-up guy brings it in every pick-up appointment. And he'll wait until you finish sticking them on their corresponding pouches.
The day before the pickup, put your items inside the pouches in advance, so when he arrives, all you have to do is stick the waybills. This only takes minutes.
But what if you have hundreds of orders per pickup?
For sellers who have hundreds of orders every day, it's better to print out the waybill stickers in advance (Yes you have to have a printer!) so you don't have to keep the pick-up guy waiting for hours before you're done sticking everything.
It won't be like a sticker (with a sticky back) but each pouch contains an outside transparent pocket where you can insert your printed waybill.
How to pack items that don't fit inside a pouch
I haven't tried this one so I will pass the torch over to Shopee which does a better job of explaining it. Click here for Shopee's complete explanation.
How to arrange for pick-up
On your app, tap on Me.
Under Selling tab, tap To Ship.
Choose the order.
And tap on Arrange Shipment and choose the date of pick-up.
How to Activate COD and free shipping in Shopee
Here's a tutorial if you haven't set up your free shipping and COD in Shopee.
To know if your pick-up address is serviceable by one of Shopee's partner couriers, click here.
You May Also Like:
How to Increase Shopee Sales for Free