Looking for a reliable credit card that will grant you rewards miles for your future travels? Surely, earning respectable rewards from daily purchases is the ultimate goal for frequent flyers. Imagine being able to travel the world using only credit card points!
Fortunately, with the Citi PremierMiles Credit Card, cardholders can now earn unlimited rewards with 1 mile for every ₱30 they spend both here and abroad, enjoy deals and discounts locally and in other countries, and make purchases using their card points.
If you're one among the few who still haven't looked into the Citi PremierMiles Credit Card, stick around for a brief guide. Here, we'll cover the eligibility requirements and step-by-step process for requesting this Citibank credit card.
How to Request a Citi PremierMiles Credit Card
Getting your hands on the Citi PremierMiles Credit Card is simple and can be done using your mobile phone or computer at home. To apply, you must be 21 years old or older and must have a yearly minimum income of PHP360,000.
As stated in the bank's website, applying for a Citi card doesn't require holders to have a deposit account. However, applicants who already have a principal credit card before application may only need to submit less documents compared to those who don't have principal credit cards yet.
In particular, applicants who already have another principal credit card will only need to submit 1 photo-bearing, government-issued ID, along with their valid TIN, SSS, GSIS, or UMID number and active landline or mobile phone number.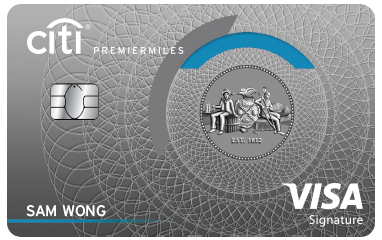 Meanwhile, applicants who have no principal credit card yet will need to submit 1 photo-bearing, government-issued ID, proof of income (via latest one month payslip, latest income tax return with a BIR stamp or with a signature of employer's authorized representative, or an original and signed Certificate of Employment that includes their status as an employee, length of service and compensation), and the bank statement of their Payroll Account showing their one-month salary.
Once you have assured you possess all the required documents and have met all the eligibility requirements, you can now go directly to the official Citibank website, look for the PremierMiles Credit Card in its collection, and click the "Apply Now" button.
From there, you will be asked to answer a set of questions and provide a few personal details. After submitting the required information, you will be provided with your qualification result. Once you are qualified, you can now proceed to submit your application and complete the process.
Citi PremierMiles Card Interest & Fees
Annual Fee (Primary): P5,000 (first year free)
Annual Fee (Supplementary): P2,500
Retail Monthly Effective Interest Rate

:

3.50%

Citi Cash Advance Monthly Effective Interest Rate: 3.63%
Cash Advance Fee: P500 or 3% of withdrawal amount, whichever is higher
Late Monthly Payment Charge: P850 or the unpaid Minimum Amount Due, whichever is lower
Foreign Transaction Service Fee: Up to 3.525%
Over Limit Fee: P750
How to Contact Citibank and Where to Find Them?
If you have any more inquiries, you can contact Citibank at (632) 995-9999 or send them a message through www.citibank.com.ph.
Since the bank's Philippine branch is supervised by the Bangko Sentral ng Pilipinas, you can also reach them at BSP's telephone number, which is (632) 708-7087.
Address: City Plaza, 34th Street, Bonifacio Global City, Taguig, 1634.
Conclusion
Overall, the PremierMiles Credit Card stands as one of the leading credit card choices for frequent travellers. From earning 1 mile point for every PHP30 spent, enjoying 15% discounts at select restaurants across the country, to even accessing domestic and international lounges at airports, this spectacular credit card is the perfect travel sidekick for your dream escapades here and abroad.
Note: There are risks involved when applying for and using a credit card. Please see the bank's Terms and Conditions page for more information.