Are you looking to save money with rewards from credit cards? If you are after a generous sign-up bonus and specific merchant discounts, the Citi Rewards Credit Card is the best choice. It is a valuable addition to anyone's wallet because of the zero-interest installment plan and plenty of other features.
This card offers big savings for cardholders because reward points do not expire. In addition, these points can serve as a credit to pay at selected merchants worldwide. Imagine being able to travel the world with credit card points!
Intrigued? There are more perks that come with this credit card. Read on to discover more about the Citi Rewards Credit Card and find out about the requirements and application process therein.
Benefits and Features of the Citi Rewards Credit Card 
One of the highlights of this credit card is the PayLite instalment plan. This is perfect for big spenders and frequent travellers. Cardholders can enjoy zero interest for instalment payment plans for up to 24 months. Flexibility in spreading out the expense from a big purchase is guaranteed with this card. Airline tickets worth Php30,000 or more can also qualify for the PayLite.
Another reason to love the Citi Rewards Credit Card is the easy way to earn reward points. For every Php30 spent using the card, cardholders can get 1 point. For dining and shopping, points can be tripled for every spend, with no capping on points earning.
Powered by Visa, this credit card also features exclusive deals and discounts from Visa-partner merchants around the world. Discounts of up to 20% off can be enjoyed by cardholders availing car rentals abroad, dining, entertainment, and more.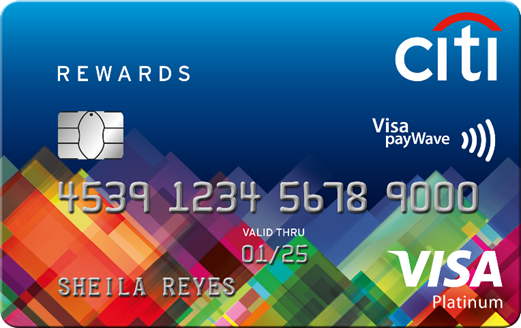 Cons of the Citi Rewards Credit Card
The only weakness of this card is the fee of Php208 a month or Php2,500 a year. As a rewards card, paying for a monthly fee contradicts the money-saving feature of the credit card.
Eligibility for the Citi Rewards Credit Card
To qualify as a cardholder, applicants need to be at least 21 years old, a Filipino citizen, employed, and earning a minimum annual income of Php180,000 per year if you have a credit card or Php250,000 a year if you don't.
For the credit limit of the card, it will be determined based on an applicants financial capacity and annual income.
How to Apply for a Citi Rewards Credit Card
The online application is possible but you also need to submit supporting documents like government-issued identification cards, proof of income, bank statements showing your monthly salary, and a signed certificate of employment.
To get started, visit the Citibank website and look for the Rewards Credit Card. Click on the Apply Now button to move on to the application form.
Citi Rewards Credit Card Interest, APR & Charges
Annual Fee – Php2,500

Retail Monthly Effective Interest Rate – 3.50%

Citi Cash Advance Monthly Effective Interest Rate – 3.63%

Citi Cash Advance Service Charge – P500 or 3%

Late Payment Fee (Monthly) – Php850

Foreign Transaction Fee – Up to 3.525%

Over Limit Fee – Php750
Bank Address & Contact Details
For inquiries about credit cards and other products, you may reach Citibank's hotline at 995 9999 for Metro Manila; 234 9999 for Cebu, and +63 2995 9999 abroad. Citibank Philippines main address is at G/F Citibank Center, 8741 Paseo de Roxas corner Villar Streets, Makati City, Philippines.
Conclusion
Overall, the Citi Rewards Credit Card is a valuable card made for bigger spenders who don't carry a credit card balance. Paying for big expenses is easier with the PayLite plan for cardholders. Contact Citibank today to learn more about the host of credit cards they offer.
Note: There are risks involved when applying for and using a credit card. Please see the bank's Terms and Conditions page for more information.