Most shoppers are thrilled to get their hands on Citibank's Cash Back Credit Card. The Citi Cash Back Credit Card is complete with remarkable rebate rates on different purchases and unmatched privileges; this credit card stands as one of the ultimate must-have products for anyone looking for ways to earn while spending.
Offering a 6% rebate on all supermarket purchases, 2% rebate on Meralco bills, and 0.2% rebate on dining, gas, shopping, and travel expenses, the Citi Cash Back Credit Card is a useful and rewarding tool to use for your day-to-day spending.
If you've been thinking about getting a credit card but are not sure what your options are, the Citi Cash Back Credit Card is worth looking into. In this article, we're going to take a closer look at the Citi Cash Back Credit Card and how to apply for one online.
How to Get a Citi Cash Back Credit Card
Applying for a Citi Cash Back Credit Card has never been easier with Citibank's online application. Through the said platform, interested customers can now proceed with their registration using only their phone or computer.
As required by the bank, interested applicants must be aged 21 or above and must have a minimum income of PHP180,000 per year.
To kickstart your application, you can simply visit the Citibank website, look for the Citi Cash Back Credit Card, and click on the "Get Citi Cash Back" button located in the upper part of the screen. From there, you will be directed to the bank's online application page.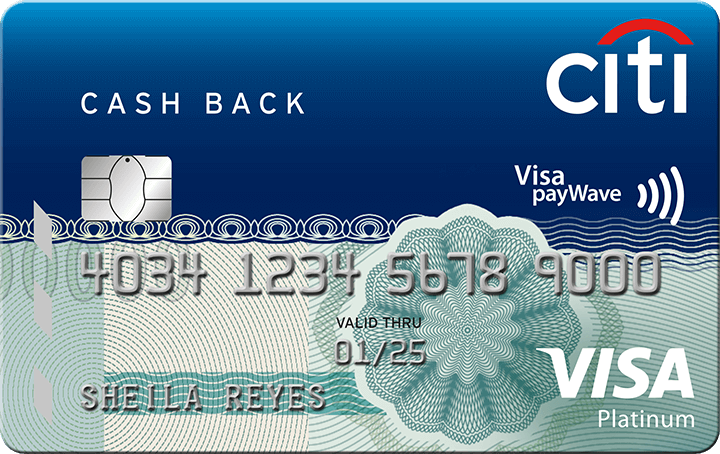 Simply provide all the necessary details asked for each question. Once you're done, the bank will provide the result, which will state whether you are qualified or not. If you've met their standards, you can proceed by clicking the "Submit" button, thus finishing your application.
You can also choose to do an in-person application at your nearest Citibank branch. Take note, however, that applicants who already have another principal credit card are required to provide 1 photo-bearing, government-issued ID during the application. On the other hand, those who don't have any other principal credit card may need to submit more documents.
Documents required include: 1 photo-bearing government-issued ID, proof of income (latest pay slip), latest income tax return or Certificate of Employment, and a bank statement of your Payroll Account showing one month of salary.
What to Expect from the Citi Cash Back Credit Card
Getting a Citi Cash Back Credit Card promises a win-win result for any cardholder. From enjoying unlimited and never-expiring cash back from your purchases to enjoying 0% interest with the Citi PayLite Installment Plan, the card also allows you to save up to PHP12,000 a year.
Citi Cash Back Credit Card Interest, APR & Fees
Annual Fee (Principal card): P3,500 (first year free)
Annual Fee (Supplementary card): P1,750
Retail Monthly Effective Interest Rate: 3.5%
Citi Cash Advance Monthly Effective Interest Rate: 3.63%
Cash Advance Fee: P500 or 3% of withdrawal amount, whichever is higher
Late Payment Fee: P850 or the unpaid Minimum Amount Due
Foreign Transaction Service Fee: Up to 3.525%
Over Limit Fee: P750
How to Contact Citibank
Address: G/F Citibank Center, 8741 Paseo de Roxas corner, Villar Streets, Makati City 1200, Philippines
If you have any more concerns, do not hesitate to get in touch with Citibank at (632) 995-9999. Customers can also send them a message through www.citibank.com.ph.
Conclusion
Overall, individuals who want to maximize their credit card returns might want to look at Citibank's popular Cash Back Credit Card. Promising ideal rebates and an easy application process, this credit card is a great option for everyday spending.
Note: There are risks involved when applying for and using a credit card. Please see the bank's Terms and Conditions page for more information.