Living up to your desired lifestyle is attainable with a Metrobank World Mastercard. Imagine getting premium perks with generous discounts of up to 50% off. This credit card lets cardholders experience luxury without the high price tag.
Aside from the impressive reward system, this card also features a 0% installment program for a wide range of merchant establishments. Pay for tuition, hospital bills, travel tickets, and appliances with ease by utilizing the installment payment program.
Want to get the taste of luxury using this credit card? Read on to find out more about the Metrobank World Mastercard. Here we'll cover the main features and benefits, disadvantages, fees, eligibility and how to apply.
Features & Benefits
When it comes to generous rewards, the Metrobank World Mastercard can surely deliver. Cardholders can unlock perks not only in the Philippines but also around the world. For instance, the traveler rewards provide up to 15 % discount on restaurants, hotels, and other establishments. Redeem rewards in participating countries like Japan, Singapore, United Kingdom, France, Australia, and more.
Another exciting feature of this credit card is the extended warranty program. Cardholders can use the Metrobank World Mastercard credit card to extend the warranty of products and goods up to a full year.
To share the perks of using this card, know that World Mastercard allows two free supplementary cards, with waived annual fees for the first year. Your family can benefit from this feature because everyone gets to experience the same privileges as the principal credit cardholder.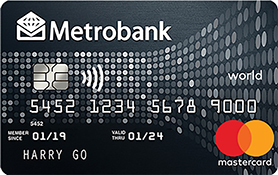 Disadvantages
The only drawback for owning this credit card is the annual fee of Php6,000. For a rewards and travel credit card, this rate is undeniably high.
Eligibility
Interested applicants need to be at least 21 years old, a Filipino citizen, and employed to qualify as a cardholder of the Metrobank World Mastercard. Having an existing credit card from another bank can also help with your application.
How To Apply
To apply, you can either use the online portal to submit your form or visit the nearest Metrobank branch. For online application, you need to visit the Metrobank website, choose World Mastercard credit card from the Menu and click on 'Apply For A Principal Card'. You will be redirected to a page where you need to fill out a form and provide your personal details.
Upon visiting a branch for a credit card application, you need to have supporting documents ready like a copy of your latest Income Tax Return (ITR) Form 2316, copy of the most recent three months' payslip, and original copy of Certificate of Employment with gross annual income.
APR & Charges
Annual Fee- Php6,000 a year

Interest Rate- 3.4% monthly

Cash Advance- 3.96% monthly

Foreign Transaction Fee- 2.5% per transaction

Late Payment Fee- Php850
Bank Address & Contact Details
Access the customer hotline of Metrobank 24/7 at (632) 87000 700 or (632) 87000 707 for VIP Customer Service.
Metrobank's main address is located at The MCC Center, 6778 Ayala Avenue, Makati City, Philippines.
Conclusion
The Metrobank World Mastercard is suited for individuals who travel a lot and use their credit cards for high ticket purchases. Because this card is considered premier, expect to pay a higher annual fee to enjoy exclusive privileges like free travel accident insurance, travelers rewards, and more.
Note: There are risks involved when applying for and using a credit card. Please see the bank's Terms and Conditions page for more information.