The HSBC Premier Mastercard has a solid rewards-earning feature, suited for individuals who spend a lot on credit cards. The card features a waived annual fee for life, accelerated rewards and free travel accident insurance.
If you're after a huge catalogue of rewards, the HSBC Premier Mastercard credit card is tailored for you. With 65 rewards items, gift cards, and discount perks, you can maximize the value of this card. Earning points is also easy with a minimum spend of Php20 per transaction.
Interested in getting the HSBC Premier Mastercard? Before you jump in and apply, let's first take a better look at the card, including the features, benefits, disadvantages, fees, eligibility and how to apply. Read on to learn more.
Features & Benefits
The most appealing feature of the HSBC Premier Mastercard is the generous reward system. For every use of the card, you can earn 1 point. You can earn up to 3 points per transaction if you use the card for dining and shopping. Accumulate points to get free flights, gift cards, wallet e-credits, and more. In addition, since this credit card is powered by Mastercard, cardholders can enjoy a host of discounts from partner merchants around the world.
Frequent travelers can also benefit from the HSBC Premier Mastercard because of its worldwide acceptance and access to more than 850 Airport lounges in over 400 airports. By paying only Php1,410 for LoungeKey, you can already enjoy membership perks that include dining, spa, and retail offers. 
Planning to make a big purchase, like a plane ticket or an appliance? HSBC offers a zero-interest installment plan to make it easier to pay for expensive items and services. The zero percent interest can be enjoyed with up to 36 months of installment.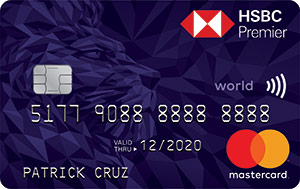 Disadvantages of the HSBC Premier Mastercard
The only weakness of this credit card is the required Total Relationship Balance to qualify as a cardholder. The TRB requirement is Php4,000,000 or its foreign currency equivalent.
Eligibility
To qualify as a cardholder, you need to be at least 21 years old, a Filipino citizen, employed and earning a minimum of Php200,000 yearly. Additional requirements include having a TRB of Php4,000,000 and having other bank credit cards for at least 12 months.
The TRB is calculated based on the average total balances of all deposit accounts, insurance and value of all investments.
How To Apply
Interested applicants can apply online or by visiting an HSBC branch. Note that HSBC takes 5 to 10 business days to process credit card applications upon submission of the form and required supporting documents.
Documents you can bring and provide are proof of identity, proof of residence, a bank statement, credit card statement of account, latest salary slip, and signed certificate of employment.
APR & Charges
Annual Fee- Php0

Interest Rate- 3.10%

Balance Transfers- 3.4588%

Cash Advance- 3%

Foreign Transaction Fee- 2.5%

Late Payment Fee- Php700
Bank Address & Contact Details
For inquiries, concerns, and activation of credit cards, you can call HSBC at +963) 85 800 for Metro Manila area; 800 100 85 800 for international toll-free countries.
You can also visit the HSBC main branch in Metro Manila, located at 7/F HSBC Centre, 3058 Fifth Avenue West, Bonifacio Global City, Taguig City, Philippines.
Conclusion
The HSBC Premier Mastercard is undeniably a great credit card for shoppers, frequent travelers, and big spenders. Take advantage of the impressive reward system to earn more discounts and freebies in partner merchants stores around the world. For more information, visit the website of HSBC.
Note: There are risks involved when applying for and using a credit card. Please see the bank's Terms and Conditions PDF for more information.