Looking for a credit card with a host of exclusive privileges for maximum value? The HSBC Red Mastercard combines affordability and generous rewards into one compact card. It is best suited for individuals who wish to collect points to convert into miles, gift certificates, and other discounts.
If you need to make big purchases with different merchant partners, worry no more because this credit card allows instalment plans of up to 36 months. This means the amount can be split into even payments over this 36 month period. And with this, cardholders can enjoy zero-interest on instalments.
If you are interested in getting your own HSBC Red Mastercard, continue reading. In this article, we're going to look closer at the features and benefits of this card, as well as the fees, eligibility requirements and application process.
Features and Benefits of the HSBC Red Mastercard
The HSBC Red Mastercard lets you earn up to 4x reward points for using the card when dining, shopping, and making transactions overseas.
These points can be used to redeem exciting rewards like gift certificates, e-wallet credit, free appliances, air miles, and charity donations. Every time you spend a minimum of Php20, you automatically earn 4 points.
Another awesome feature of this credit card is the 3% rebate for year-round fuel expenses. At the same time, cardholders can also earn reward points for using their card. This is only applicable for any Caltex gasoline stations and a maximum monthly fuel expense of Php20,000 per month.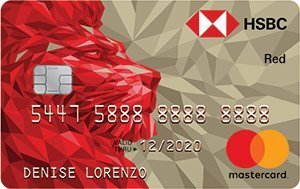 About to make a big expense on gadgets, appliances or airline tickets? Enjoy instalment deals up to 36 months with the HSBC Red Mastercard. High-ticket items from partner merchants allow zero interest for instalment payments.
HSBC Red Mastercard Disadvantages
The only downside of this credit card is the capping of rebate privileges up to Php20,000 max. Other credit cards don't have a rebate cap; hence, cardholders cannot maximize their rewards.
Eligibility for the HSBC Red Mastercard
In applying for the HSBC Red credit card, applicants need to be at least 21 years of age, a Filipino citizen, employed, and earning an annual income of Php20o,000 yearly. In addition, you must also have an existing credit card account owned for the last 12 months.
Note that the credit limit for this card is determined by the bank based on the applicant's financial capacity and annual income. HSBC only gives a manageable credit limit to cardholders to avoid credit card debt.
How to Apply for the HSBC Red Mastercard
To get started with the application, visit the HSBC website and ensure you are on the right page to apply for this card. Once there, click on Apply Now.
You must accomplish the online form and provide personal and financial information. Once done, you can click on Submit Application and wait for a decision.
HSBC Red Mastercard Interest, APR & Charges
Annual Fee – Php1,500 per year primary, Php750 per year supplementary

Interest Rate – 3.50% monthly

Balance Transfers – 3.45%

Cash Advance – 3.75% monthly

Cash Advance Fee – 3% of the amount drawn or PHP500

Foreign Transaction Fee – 2.5%

Late Payment Fee – Php700

Overlimit Fee – Php500
Bank Address & Contact Details
Credit card customers can call the hotline of HSBC for concerns and inquiries. Dial +(63) 85 800 for Metro Manila customers; 800 100 85 800 for international toll-free countries.
HSBC's main address is located at 7/F HSBC Centre, 3058 Fifth Avenue West, Bonifacio Global City, Taguig City, Philippines.
Conclusion
Get your hands on the HSBC Red Mastercard to enjoy a myriad of rewards and privileges. This credit card can help you save money with the instalment payment plan and money rebate on fuel expenses. For more information, visit the website of HSBC Philippines today.
Note: There are risks involved when applying for and using a credit card. Please see the bank's Terms and Conditions page for more information.