A call center agent is a person who takes calls on behalf of a company. An employee of a call center can manage account inquiries, customer complaints, and provide other customer service support. Often referred to as a mixed agent, it is a call center operator who handles incoming and outgoing customer calls. Customer service representative (CSR), contact center manager, telephone sales or service representative (TSR), dispatcher, account executive or team member are other names for a call center employee.
Being an employee of the call center means you work in a balanced environment. Degrees of age and schooling in the call center world do not matter. This is an excellent thing because workers are judged not on these things. Instead, call center agents work for results, even if you don't have a college diploma or you're not old enough to have experience.
Most call center positions do not require prior experience. If you're a fresh student or undergraduate with no experience at all a call center job might be right to you. If you're new to the job market and possess excellent communication skills and technical expertise, a call center position is a great way to join any big business.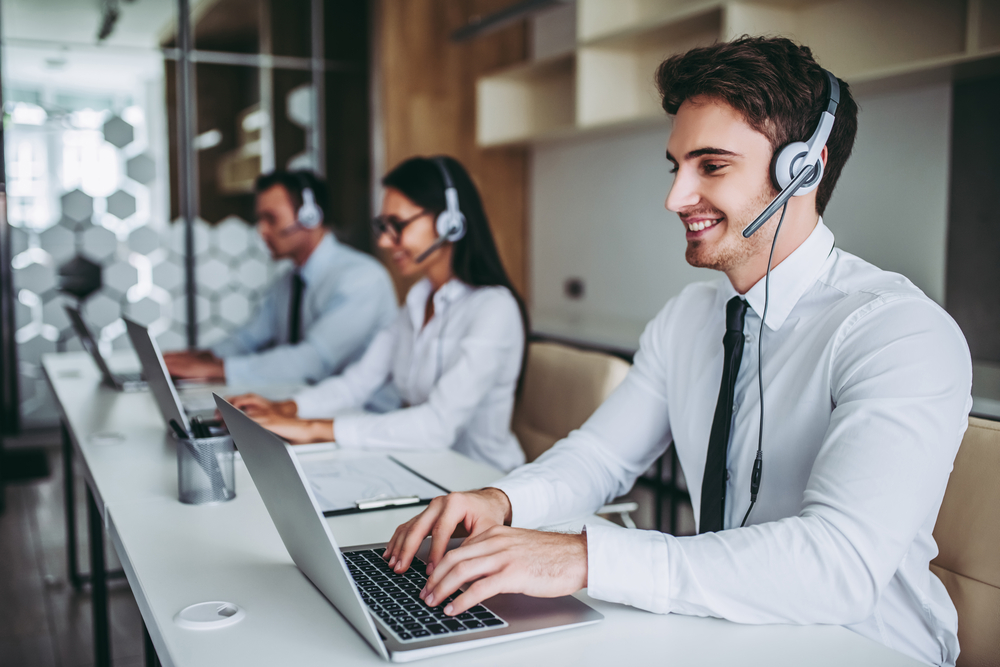 Basic Steps To Become A Call Center Agent
Working in a call center requires skills in management and communication. As a member of the customer service team, you will hear concerns, as well as questions about the business A call center is a fast-paced place, so the quicker you refine your skills the better.
Step 1: Prepare Your Resume
In your resume, emphasize your communication skills, both written and verbal. Make sure you're competent and you can work well on a team. Relay the other skills in a call center that would be helpful. Call centers are looking for people who are good at multitasking, operating in a high-paced environment, learning fast, and achieving goals. For example, you can explain how through a previous job, volunteer work, or school challenge you accomplished a tangible target. Also, include a high school diploma as it is the typical educational requirement for an entry-level call center agent.
Step 2: Leave An Impression During The Interview Process
Show up early and dress professionally. Show willingness with your position and schedule to be versatile. Also, be excited about learning about the organization and its policies or procedures. Try to ask a question about something that you found on the website or social media pages of the organization. This will prove you have done your research and the potential employer will be interested in it.
Step 3: Focus During The Training
Expect a training period for your new position. You will need to show that you are up-to-speed on technology, products, services, and company culture. Make sure you attend all of your training sessions, without missing a day. Ultimately, this is your opportunity to prove yourself and prepare for your position.
Where To Send Your Resumes
When applying, the first thing you need to do is to look for job openings. Here are some websites where you can look for job openings in call centers.
Upwork
Upwork, formerly Elance-o Desk, is a global platform for mobile networking and collaboration between businesses and independent professionals. The main office is located in Mountain View, California, and the company's full name is Upwork Global Inc. Upwork makes communicating with customers simple.
In order to apply, you need to start with a strong profile. Your Upwork success will largely depend on how good your profile is. Here, you can add your strong background in the call center. Your objective is to impress customers and employers as soon as they reach your profile. Adapt your profile to give an insight into your skills.
JobStreet
JobStreet.com is a job portal. Founded in Malaysia, according to Forbes, it is now the largest online job company in Southeast Asia. Therefore, about 80,000 corporate clients and 11 million job seekers are currently served by this site.  You can simply create a free JobStreet candidate's account and start applying to call centers.
JobStreet has an easy creation system for your online profile. In addition, it has an instant online application to local and worldwide job opportunities. Also, it has personalized job alerts delivered to your email that help track your job applications and application statuses.
Glassdoor
Glassdoor is one of the biggest employment and hiring platforms in the world. Based on enhanced workplace openness, Glassdoor offers millions of recent job listings. Glassdoor is combined with a growing repository of market analysis, CEO approval ratings, salary surveys, interview feedback and questions, advantage reviews, office images, and more. With Glassdoor, more than 60,000 companies around the world advertise jobs.
Unlike other websites for jobs, all this information is shared by those who know best about a company— the employees. Also, work-seekers at Glassdoor are, on average, well-researched and more educated about the positions they apply to.
Today, Glassdoor is operating as part of Recruit Holding's rising HR Technology division. Glassdoor is headquartered in Mill Valley, California, and was founded by Robert Hohman, Rich Barton, and Tim Besse in 2007, before its release in 2008.
Tips For Making A Resume And Cover Letter
Follow the standards of the company you are applying for when writing your cover letter and resume.
Keep it short and straightforward. A resume is one page. A cover letter is a few short paragraphs running around 400 words.
Show your passion when writing the cover letter. Emphasize your strengths and relevant information like experiences.
Place your most current experiences on top. Use simple fonts like Arial & Times New Roman. Make sure your contact numbers are working and are presented clearly.
Then, in your cover letter, indicate the best time for potential employers to reach you and use a professional-looking photo if your picture is required.
Conclusion
This industry offers job seekers the complete package: work versatility, fair pay, and bundles of benefits. If you are not sure what your next career move should be, perhaps consider a call center position.  For more call center tips, click here.