When it comes to maximum rewards and exclusive deals for cardholders, the BDO Visa Classic is the best credit card to have. It is a super-value card that makes spending a rewarding experience. From big purchases with EasyPay installment plan and worldwide acceptance, this card offers premium perks.
Unlike other credit cards, the BDO Visa Classic offers 0% interest on installment plans up to 36 months. This program is one of the highlights of BDO credit cards, providing more breathing room to pay off big purchases.
In this article, you will find out how to get the BDO Visa Classic card. Read on to know more about the application process and perks that come with it.
Benefits And Perks
The BDO Visa Classic card lets cardholders earn points that can be redeemed for exciting gifts and rewards. For a minimum spend of Php200, a cardholder can already earn 1 point. However, for purchases in SM Appliance Center, SM Supermarket, Watsons, Walter Mart Supermarket and Kultura Filipino, a minimum spend of Php400 is needed to earn 1 point.
Another reason to have this card is the free membership fee for 12 months. The monthly fee of Php 125 is waived for the first year of account opening. The same promotion of zero-membership fee applies for the supplementary card.
Eligibility And Requirements
To successfully qualify as a cardholder, you need to be at least 21 years old, a Filipino citizen and employed, earning a minimum of Php180,000 yearly.  For employed applicants, supporting documents like photocopy of your latest BIR Form 2316 is needed, signed by your employer. Moreover, a photocopy of your latest payslip must be submitted and an original Copy of Employment and Income with compensation breakdown, status, and length of stay. One landline number is also needed to apply.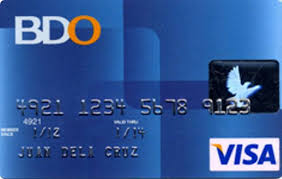 For self-employed applicants, a photocopy of the Registration of Business Name is required with Photocopy of ITR for the last two years, with Bank stamp. Bank statements for the last three months are also needed as well as Audited Financial Statements for the last two years. Business operations must be on-going for a minimum of two years. In addition, office address or residence must be within range of any BDO branch.
Application Process
To apply for the BDO Visa Classic Card, you can either visit a BDO branch or Apply Online. To make an online application, you need to visit the BDO website and fill out the form.
Applicants need to provide personal information such as complete name, residence, contact number, and employment details. You will also need to share supporting documents online. The decision will be given from a few days to a few weeks after the application. This is also the case for in-branch applications.
BDO Visa Classic Card Interest & Fees
Annual Fee - Php0 for the first 12 months; Php125 monthly after the promotional period
Interest Rate - 3.50%
Cash Advance - 5% of the amount withdrawn
Late Payment Fee - 7% of the overdue amount
BDO Address & Contact Information
7899 Makati Avenue
Makati City 0726, Philippines
Trunkline: (+632) 840-7000
Conclusion
Overall, the BDO Visa Classic Card is best suited for individuals who are fond of making big purchases and opt for installment payments. With this card, paying off balances is easier with the zero-interest program for installment plans.
Note: There are risks involved when applying for and using a credit card. Please see the bank's Terms and Conditions page for more information.