Looking for a reliable credit card with impressive rewards and travel privileges? Whether you're a frequent traveler or a consumer with high consistent spend on food and gas, getting an HSBC Platinum Visa Credit Card is sure to give you a win-win result as you go through your day-to-day purchases.
From enjoying accelerated rewards to earning air miles for every Php25 charged, this card stands as one of the best credit card choices for individuals interested in both cashback & miles rewards. In fact, it can even grant you up to 4 times rewards and travel privileges all at once!
Interested in getting one already? Well, let's take a step back and take a better look first. To kickstart your financial journey with the HSBC Platinum Visa Credit Card, here is a brief guide as to how you can get one, including the features, advantages, disadvantages, fees and eligibility.
Features and Benefits
Offering an above-average set of features and benefits, the HSBC Platinum Visa Credit Card lets you earn up to 4 points for every PHP20 you spend abroad, 3 bonus points for every eligible PHP20 spend locally, and 1 bonus point for every PHP20 spend on everything else.
Moreover, the credit card also grants you 1 air mile for as low as PHP25 spend, allowing you to save up for your future dream travels! In addition, you can also avail free travel accident insurance and travel inconvenience coverage and enjoy savings on Caltex fuel purchases while using the card.
HSBC Platinum Visa Credit Card Cons
Although the HSBC Platinum Visa Credit Card presents a lot of striking rewards and promos, the card's Php5,000 annual fee might appear to be a bit higher compared to other credit cards available in the market.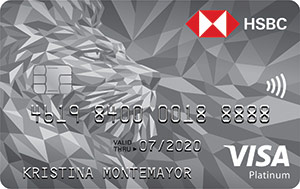 HSBC Platinum Visa Credit Card Application & Eligibility
Interested customers who want to have their own HSBC Platinum Visa Credit Cards can start their application by visiting the HSBC official site. From there, simply look for the HSBC Platinum Visa Credit Card and click on the "Apply Now" button located at the right side of your screen.
In order to become eligible, applicants must have an existing locally-issued primary credit card for at least a year and must have a minimum annual income of PHP500,000.
If you meet all the given standards, you can proceed with your application. During the first step of the application process, you will be directed to the bank's Offer Selection page, which will allow you to choose between having no annual fees or a PHP2,000 Lazada e-voucher as a free gift with your new HSBC Credit Card.
Once you've made up your mind, you will be asked to input your personal info, which includes your name, date of birth, contact details, basic annual income, government-issued ID, and your ID number.
Once you're done answering the questions, you can go on and submit your application for the bank's approval. If approved, the bank will typically determine your credit limit based on your income, expenses and credit history.
HSBC Platinum Visa Credit Card Fees and Charges
Annual fee: PHP5,000 for primary; PHP2,500 for supplementary
Interest Rate: 3.50% per month
Cash Advance fee: 3% of amount drawn or PHP500, whichever is higher
Late payment fee: PHP700 or unpaid minimum amount due, whichever is lower
Overlimit fee: PHP500 shall be charged if card account is overlimit on cut-off date
HSBC Contact Details
Customers who have any inquiry or complaint can contact HSBC's Customer Services at +63(2) 85-800 from Metro Manila. Meanwhile, those who will be calling from abroad can also reach the bank at +63(2) 976-8000.
You can also send an email to the bank through hsbc@hsbc.com.ph or visit hsbc.com.ph/feedbackhsbc.com.ph/feedback to know more about their customer feedback procedures.
Head Office Address: The Hongkong and Shanghai Banking Corporation Limited HSBC Centre 3058 Fifth Ave West Bonifacio Global City Taguig City 1634. Philippines.
Conclusion
Overall, the HSBC Platinum Visa Credit Card offers grand rewards and privileges that are sure to make your day-to-day spending even more worthwhile. Be it for your future travels or even normal purchases, this credit card stands as one of the best choices you can have in today's market. However, while it comes with great advantages, keep in mind that you do pay for all of this in the form of an annual fee.
Note: There are risks involved when applying for and using a credit card. Please see the bank's Terms and Conditions PDF for more information.