Looking for a credit card that will grant your rewards point as you shop, dine, and travel here and abroad?  With the EastWest Visa Credit Card, you can treat yourself with reward items and exclusive deals wherever, whenever.
Offering 1 reward point for every Php100 charged, the card stands as an excellent choice for customers who want to experience limitless rewards and a broad variety of perks and privileges. From having exciting reward items and exclusive deals to enjoying easy monthly payment options, getting an EastWest Visa Credit Card is sure to make your day-to-day spending even more manageable.
Interested in getting your hands on the EastWest Visa Credit Card? Before you jump in, let's take a closer look at the features, benefits, disadvantages, fees, eligibility and how to apply. Read on to learn more.
Features and Benefits
For every Php100 spend, the EastWest Visa Credit Card allows you to earn 1 reward point, which can be converted into eGift Rewards and Limitless Rewards Vouchers. As a bonus, you can even enjoy discounts on qualifying purchases and accommodations, as well as experience above-average security through the bank's 3D Secure Technology.
What more? The card also allows users to enjoy 0% interest on eligible items and installment terms at participating merchants and pay for their utility and telecommunication bills using the card.
Disadvantages
Although the EastWest Visa Credit Card presents dozens of impressive perks and promos, some of its must-have deals are limited to Gold Cardholders only, such as the free Travel Accident and Inconvenience Insurance and the contactless terminals for payment of purchases.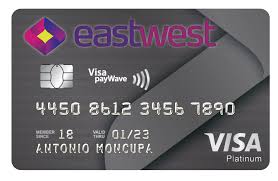 EastWest Visa Credit Card Application & Eligibility
Applying for an EastWest Visa Credit Card is simple and straightforward. To start, you can visit the EastWest website and look for "Apply for EastWest products" on the home page. Once you've found it, click on the link and open the "Credit Card" category. From there, you will be redirected to the bank's online application page.
Simply answer all the given questions and provide the needed details. Once you're done, you can submit your application and finish the process.
Take note, however, that the application is limited to people who are aged 21 years or older, Filipino Citizens or local resident foreigners, and have a minimum gross annual income of Php180,000.
Applicants who may also want to apply directly to the bank can visit the nearest EastWest branch in their area. As part of the bank's policies, principal and supplementary card applicants must bring with them their fully-accomplished EastWest application forms along with a photocopy of their valid ID complete with photo and signature.
If employed, principal card applicants are required to submit their latest BIR Form 2314, Certificate of Employment, Letter of Appointment, Salary Adjusted Memo, latest 3 months payslip, latest service record (for government employees), and a valid credit card reference along with their latest Statement of Account.
Meanwhile, principal card applicants who are currently self-employed must bring both their latest BIR Form 1701 and their latest Financial Statements (if applicable).
Overall, the application process may take 10 to 15 banking days. All the submitted documents will also not be returned.
Fees & Charges
Annual fee: Php2,500 for Gold Principal users; Php1,500 for Classic Principal users; Php1,250 for Supplementary Gold users; Php750 for Supplementary Classic users

Interest rate: 3.50% per month, computed based on average daily balance (or 42% effective rate annually)

Late payment fee: 8% of the Minimum Payment Due

Over limit fee: Php500

Card replacement fee: Php400
How to Contact EastWest bank?
Customers who have any inquiry are free to contact the bank through their customer service hotline (02) 888-1700 or 1-800-1888-8600. Those who will be calling from the US can also reach the EastWest bank at 1-866-828-6296.
They may also send a mail or visit the bank's Corporate Office located at The Beaufort, 5th Avenue corner 23rd Street, Bonifacio Global City, Taguig 1634.
Conclusion
Overall, the EastWest Visa Credit Card stands as a worthy choice for individuals wanting to earn limitless rewards while enjoying special discounts and privileges. For more info, visit the EastWest website or the nearest EastWest branch in your area.
Note: There are risks involved when applying for and using a credit card. Please see the bank's Terms and Conditions page for more information.